Wythe to John Tabb, 22 September 1782
From Wythepedia: The George Wythe Encyclopedia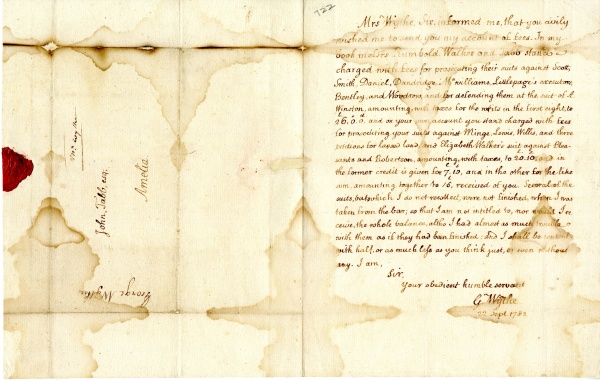 This letter from Wythe to a John Tabb in Amelia County, Virginia, outlines Tabb's unpaid court fees. Wythe would have been paid the full amount for the cases, but left for another position before they were completed; therefore, he asks for only half, if any. On the reverse of the letter, part of Wythe's seal can be seen on the left-hand edge.
Tabb is possibly John Tabb (1736 – 1798) of "Clay Hill" in Flat Creek, Virginia, a member of Virginia's House of Burgesses, and grandson of John Tabb (1676 – 1739) of Elizabeth City County, Virginia, whom Wythe's family would have surely known.[1]
Letter text, 22 September 1782
Page 1
Mrs Wythe, Sir, informed me, that you civily wished me to send you my account of fees. In my book messrs. Rumbold Walker and Tabb stand charged with fees for prosecuting their suits against Scott, Smith, Daniel, Dandridge, McWilliams, Littlepage's executors, Bentley, and Woodrow, and for defending them at the suit of A. Winston, amounting, with taxes for the writs in the first eight, to 2l6.0s.0d, and on your own account you stand charged with fees for prosecuting your suits against Minge, Lewis, Willis, and three petitions for lapsed land, and Elizabeth Walker's suit against Pleasants and Robertson, amounting, with taxes, to 2l0.1s0; and in the former credit is given for 7l.1s0, and in the other for the like sum, amounting together to 15l, received of you. Several of the suits, but which I do not recollect, were not finished, when I was taken from the bar; so that I am not intitled to, nor would I receive, the whole balance, altho I had almost as much trouble with them as if they had been finished; and I shall be content with half, or as much less as you think just, or even without any. I am,

Sir,

your obedient humble servant

G. Wythe.

22 Sept. 1782
Page 2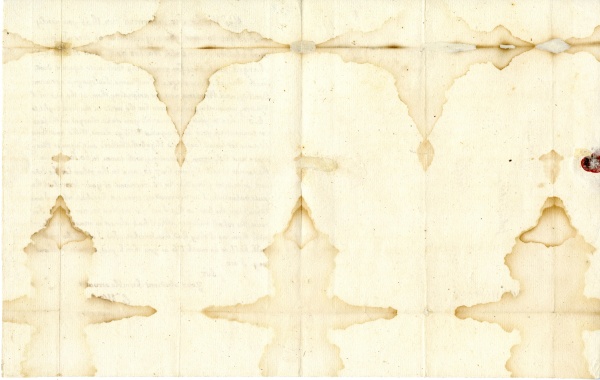 John Tabb, esq.




Amelia.


George Wythe
References
↑ "John Tabb (1736 - 1798)," Find A Grave, accessed September 22, 2016, http://www.findagrave.com/cgi-bin/fg.cgi?page=gr&GRid=72436535.