Decisions of Cases in Virginia, by the High Court of Chancery, with Remarks upon Decrees by the Court of Appeals, Reversing Some of Those Decisions
From Wythepedia: The George Wythe Encyclopedia
by George Wythe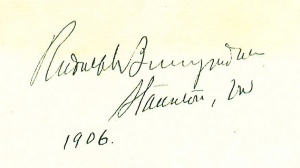 George Wythe (1726 – 1806), American legal scholar, politician, and judge, provided substantial contributions to the jurisprudence of a young nation.[1] Wythe's Reports, published in Richmond, Virginia, in 1795, include forty-two of his cases spanning the years 1788 to early 1795.
Wythe served various roles throughout his career, two of which provide context for his Decisions of Cases in Virginia by the High Court of Chancery. One produced a rivalry, and the other deep enmity, with one of his contemporaries, Edmund Pendleton. It was from this rivalry that Wythe's Reports sprang.[2]
Wythe first encountered Pendleton in the practice of law, as they were frequent adversaries in court.[3] While Wythe exceeded in formulating complex, logically sounds arguments, Pendleton possessed the gift of eloquence.[4] Often this led to Pendleton winning cases with a weaker argument, as Wythe's complex arguments often exceeded the comprehension of the jury.[5] The friction generated between these steadfast competitors in these early years evidently sowed the seeds of a life-long rivalry.
Eventually, Wythe and Pendleton both served as judges for the High Court of Chancery, where, despite frequent compromise, their political differences became evident.[6] While Wythe favored going beyond precedent to establish new policies for the young nation, Pendleton favored a more conservative approach.[7] This was most visible in Wythe's decision in Commonwealth v. Caton where he disagreed sharply with Pendleton's willingness to absolve the legislature of overstepping its bounds and posited an early version of judicial review.[8]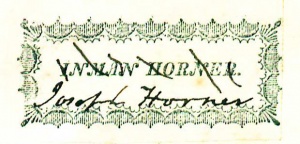 The rivalry reached its zenith when Pendleton was elevated to the Supreme Court of Appeals.[9] This enabled Pendleton to overrule or alter Wythe's opinions in final, binding decisions, a power he exercised in a majority of Wythe's cases.[10] Wythe was not one to let his opponent have the last word, and his reports were a means of publicizing his ideas.[11] The reports "[i]ndicate just how erudite, how deeply learned in the law Wythe really was."[12] In going beyond precedent, Wythe drew from a wide variety of sources in reaching his conclusions, including classical literature.[13] And although Wythe was usually known as being mild and impartial, his work contained remarks that were "unrestrainedly caustic" in attacking Edmund Pendleton.[14] In addition, Wythe designed his reports so that the final opinion put Pendleton in the most negative light.[15]
After publishing Decisions of Cases in Virginia by the High Court of Chancery in 1795, Wythe became fatalistic, knowing that his opinions were bound to be altered or overturned by his rival.[16] Nevertheless, he continued publishing additional opinions in pamphlet form.[17] In one of these supplements, A Report of the Case between Field and Harrison (1796), Wythe mentions in a brooding footnote that only 20 copies of his Reports have been sold.[18] The 1852 edition of Wythe's Reports contains the original work as well as these additional materials.[19]
Evidence for Inclusion in Wythe's Library
As author, Wythe would have owned his own case reports. Additionally, the title is listed in the Jefferson Inventory as "Wythe's Chancery decisions. fol. & 8vo." Jefferson kept both titles (this volume and an octavo version of subsequent case reports). The University of Virginia owns a copy which includes a handwritten note on the front flyleaf: "Memorandum. This copy of Wythe's Reports, was the Chancellor's own copy, and is annotated in his own peculiar handwriting, and with quotations illustrative of the text from Greek authors. After leaving the bench, Judge Wythe presented this book to Thomas Jefferson; it was subsequently owned by George Wythe Randolph, R.G.H. Kean (Rector of the Board of Visitors of the University of Virginia), and Jefferson Randolph Kean. Given to the University of Virginia Law School by J.R. Kean in 1925, in memory of his father, R.G.H. Kean."[20] The volume also includes Wythe's manuscript notes throughout the volume. There are also a few marginal notes in the copy of Wythe's Reports that Jefferson sold to the Library of Congress. That volume may also have been Wythe's originally.
Description of the Wolf Law Library's Copy
Bound in contemporary full calf. Spine features raised bands and red morocco label with gilt lettering. Copy has previous owner's signatures "Rudolph Bumgardner, Staunton, VA 1906" on the front free endpaper and "James Byrne" on the title page. The frontpastedown includes the book label of "Inman Horner" which has been crossed out and replaced with the signature "Joseph Horner." The front pastedown also has the signature of Dan Call, a Virginia reporter and former student of Wythe's. "Daniel Call" also appears on the title page. Call "commonplaced" the book, writing notes for various subjects on the rear blanks and pastedown. Purchased from Franklin Gilliam Rare Books.
Images of the library's copy of this book are available on Flickr. View the record for this book in William & Mary's online catalog.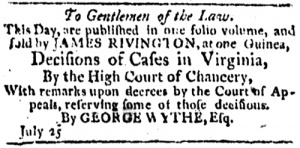 Full text
See also
References
External links