Winston v. Johnson's Executors
From Wythepedia: The George Wythe Encyclopedia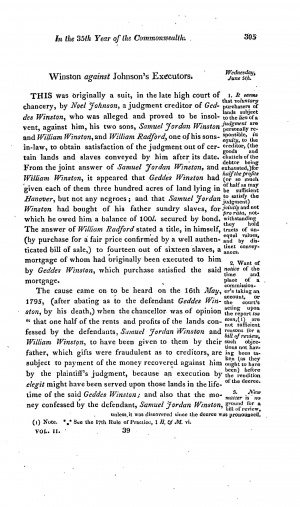 In Winston v. Johnson's Executors, 16 Va. (2 Munf.) 305 (1811),[1] the Court determined that voluntary purchasers of land subject to a lien are personally responsible, in equity, to the creditor.
Background
Noel Johnson was a creditor of Geddes Winston. Proving to be insolvent, Noel sued Geddes' two sons, Samuel and William Winston, and one of Noel's sons-in-law, William Radford. Noel sued on a theory that Geddes conveyed his land and property to the three after the judgment was made against him and this was the only way to satisfy his debt.
The Court's Decision
On May 16, 1795, the case came before Chancellor Wythe. Wythe believed that based on the defendants answers, the sons and son-in-law should convey a portion of the land and slaves they obtained from Geddes to Noel. Wythe gave a decree to this same effect. In April 1797, the Court of appeals affirmed the decree. On May 30, 1799, Master Commissioner [Andrew] Dunscomb reported to the Court that he attempted to take an account of the defendants' total rents and profits, but Geddes' sons failed to report their earnings. Hearing this, on October 5, 1799, Wythe decreed that Samuel and William Winston pay Noel £67 at a daily interest rate of £28 from October 8, 1788 [sic] until the judgment was paid. Wythe also dismissed the case against Geddes' son-in-law, William Radford. The Court of Appeals affirmed the decree.
See also
References
↑ William Munford, Reports of Cases Argued and Determined in the Supreme Court of Appeals of Virginia, (New York: I. Riley, 1814), 2:305.