Westfall v. Singleton
From Wythepedia: The George Wythe Encyclopedia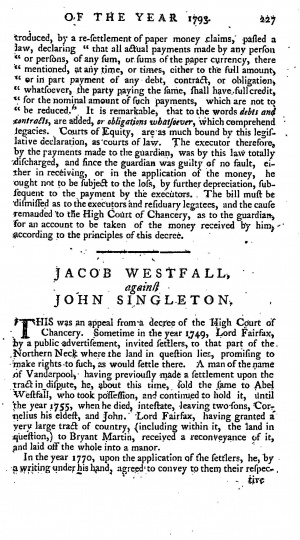 Westfall v. Singleton, 1 Va. (1 Wash.) 227 (1793),[1] is a land dispute case.
Background
In 1749, Lord Fairfax publicly advertised for settlers to live in Northern Neck and promised to grant land rights for those who settled there. However, a man named Vanderpool, who previously settled in Northern Neck, about this time, sold his land to Abel Westfall. Abel possessed the property until 1755, when he died interstate and left two sons—Cornelius and John. In 1770, Lord Fairfax conveyed land including Abel's property to Bryant Martin. The conveyance gave Bryant the disputed land for three lives and was renewable forever, so long as Bryant paid rent. Cornelius, who was living in New Jersey at the time of father's death, took possession of the land in 1773. Cornelius paid rent to Lord Fairfax for some years, though Lord Fairfax never officially conveyed the land to him. Regardless, in 1780 Cornelius passed down the property to his sons, Issac and Zachariah, who later conveyed the land to Jacob Westfall, the plaintiff of this case. Jacob sued Singleton in the High Court of Chancery to obtain the undisputed property rights of the land. Singleton answered the suit stating that he purchased the land from John Westfall, Abel Westfall's youngest son, and he obtained an official deed for the land from Lord Fairfax in 1773.
The Court's Decision
Chancellor Wythe dismissed the case stating there was no equity admitted by the answer or established by the evidence. The Court of Appeals reversed the ruling. The Court reasoned that if Lord Fairfax was advertising titles, he should have granted titles to those who had already settled on the land. If this was the case, Abel would have undisputed title to the property and that title would be passed down to his eldest son, Cornelius. Thus, since John obtained his title through the elder Westfall, he was the rightful owner of the land.
See also
References
↑ Bushrod Washington, Reports of Cases Argued and Determined in the Court of Appeals of Virginia,(Richmond: T. Nicolson, 1798), 1:227.