Cases Argued and Determined in the High Court of Chancery, in the Time of Lord Chancellor Hardwicke, from the year 1746-7, to 1755.
From Wythepedia: The George Wythe Encyclopedia
by Francis Vesey
Francis Vesey's reports cover cases from the time of Lord Chancellor Hardwicke.[1] Regarding the substance of the reports, "it would be difficult to find, in any age or nation, as the production of a single man, a more various or comprehensive body of legal wisdom, than is contained in these volumes."[2] The third edition (1818) is more prized than the earlier two.[3]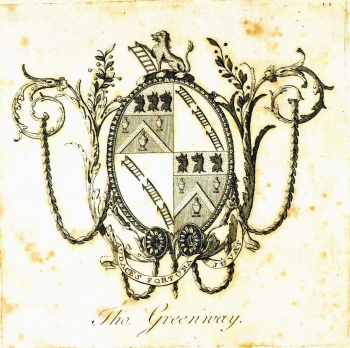 Evidence for Inclusion in Wythe's Library
Listed in the Jefferson Inventory of Wythe's Library as "Vezey's rep. 2.v. fol." and given by Thomas Jefferson to Dabney Carr. The precise edition owned by Wythe is unknown. Two-volume, folio editions were published in 1771 and 1773.[4] George Wythe's Library[5] on LibraryThing does not list a specific edition. The Brown Bibliography[6] suggests the second edition based in part on a copy at the University of Virginia previously owned by Jefferson. The Wolf Law Library followed Brown's advice and purchased a copy of the second edition.
Description of the Wolf Law Library's copy
Bound in contemporary calf. Spines feature six raised bands. Vol. II retains original gilt-lettered morocco label. Each volume includes the bookplate of Tho. Greenway on the front pastedown.
Images of the library's copy of this book are available on Flickr. View the record for this book in William & Mary's online catalog.
Full text
See also
References