Price v. Armistead
From Wythepedia: The George Wythe Encyclopedia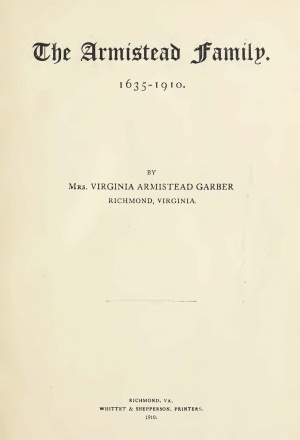 Price v. Armistead was a Chancery Court case heard by George Wythe in 1780 or earlier. The case is briefly described in The Armistead Family, 1635-1910, a genealogical account of the Armistead family of Virginia, published in 1910.[1]
The author describes a vellum-bound "plantation book" in their possession, covering the period from 1760-1780, with a full account of the lawsuit. The author gives only a summary of the case with a few choice quotations, and there is no information regarding where the source book came from, or its current location.
The Armistead Family also has some accounts of George Wythe's relations, including George Wray, and the Sweeny (or Sweeney) family.
Background
Sometime in 1780 or before, Maria Carter Armistead, "mistress of Hesse," was part of a suit against her father-in-law, the Reverend Thomas Price, after he and his wife left the family home in Gloucester, Virginia (now Mathews Co.), taking with him the carriage, a good deal of furniture, and four servants.
The Court's Decision
There is currently no information regarding the court's opinion in this case.
Excerpt from The Armistead Family, 1910
Page 26
We have in our possession an old book, possibly a plantation book, which runs from 1760 to 1780. It contains interesting entries in reference to John and Henry Armistead, Nathaniel Burwell, William Byrd, John Buckner, Carter Braxton, John Carter, William Churchill, John Clayton, Hannah Churchill, John Robinson, Nath. Littleton Savage, Captain Thomas Smith, William Shackleford, Edward Tab, Thomas Todd, Charles Tomkies, Warner Washington, Ralph Wormeley, William Nelson, Sir John Peyton, Mann Page, William Plummer.[...]

There is also in this book a full account of the law suit, Price vs. Armistead, before "the Honorable George Wythe, Esquire, Judge of the High Court of Chancery," involving part of the fortune of the wealthy Mary Bowles, who married William Armistead, of Hesse. His son, William, married Maria Carter, who speaks her mind in no uncertain terms in regard to Rev. Thomas Price, who was the second husband of her mother-in-law. That the Rev. gentleman lived with his wife, Mrs. Armistead at Hesse, eight months after their marriage "in a very expensive manner,
Page 27
having the entire command of everything in and about the house with at least seventeen servants"; that when he carried his wife to his own home he took Mr. Armistead's chariot almost new that cost one hundred and ten pounds, "a great deal of most valuable furniture, which they absolutely appropriated and never returned," and four house servants whom they kept several months!

The said Maria was afterwards the mistress of Hesse and knew whereof she affirmed.

The book bound in vellum is full of interest; the penmanship, in lines and formation, a model of neatness.
See also
References
↑ Virginia Armistead Garber, The Armistead Family, 1635-1910 (Richmond, VA: Whittet and Shepperson, 1910), 26-27.