Pollard v. Patterson's Administrator
From Wythepedia: The George Wythe Encyclopedia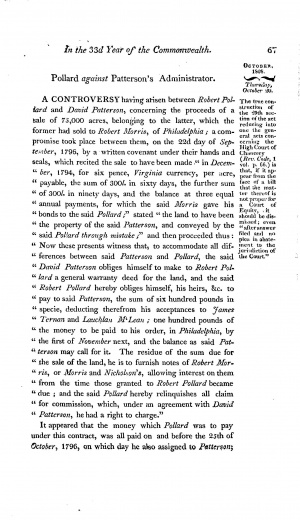 In Pollard v. Patterson's Adm., 13 Va. (3 Hen. & M.) 67 (1808),[1] the court determined whether payment plan fees were based on the value established at the commencement of the contract or at the devalued rate received at the time of payment.
Background
Robert Pollard and David Patterson had a dispute concerning money David received for the sale of 75,000 acres. David entered into a deal with Robert to act as a real estate agent since David was not privy to the merchant sales. Robert agreed to pay David £600 upfront for the land, £100 in November of 1796, and the balance of the payment with accrued interest after the deals were finalized. Robert also agreed to relinquish a commission on the sale and only charge the cost up front. Robert Pollard found a willing buyer named Robert Morris in Philadelphia. He sold the land to Robert Morris for £6 per acre. A payment plan was also established where Robert Morris would pay £300 in 60 days, £300 in 90 days, and the remaining balance in 3 equal portions for the next three years. The issue with the contract was by the time David received his payments, the value of the bonds had greatly depreciated David sued Robert Pollard and Robert Morris in the High Court of Chancery for the true value of his sale.
The Court's Decision
Chancellor Wythe was of the opinion that Robert Pollard should not have tendered David's notes, particularly when he knew the value was decreasing. Wythe then decreed that Robert Pollard pay David the equivalent value of the notes. The Court of Appeals found Wythe's decree to be erroneous and remanded the case.
See also
References
↑ William Hening & William Munford, Reports of Cases Argued and Determined in the Supreme Court of Appeals of Virginia: with Select Cases, Relating Chiefly to Points of Practice, Decided by the Superior Court of Chancery for the Richmond District (New York: I. Riley, 1808), 3:67.