"Parson Blair's Snack.—Chancellor Wythe"
From Wythepedia: The George Wythe Encyclopedia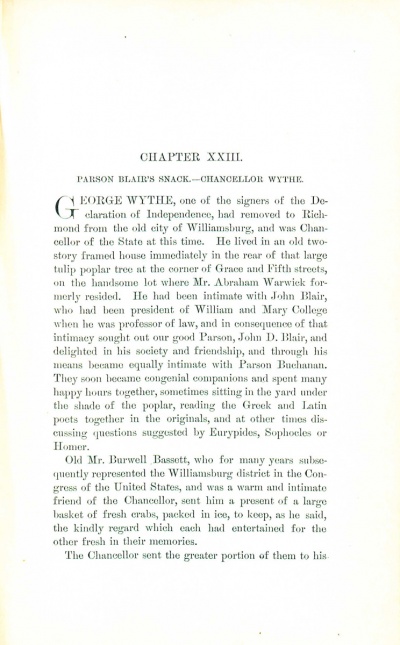 In his posthumously-published book, The Two Parsons, George Wythe Munford relates a story called "Parson Blair's Snack," in which George Wythe, then living in Richmond, shares a gift of iced crabs with the Reverend James D. Blair, who then humorously finds himself attempting to split them among himself, John Buchanan, George Wythe Munford, and William Radford.[1]
The Two Parsons also contains a chapter devoted to "Chancellor Wythe's Death."
Chapter XXIII text
Page 357
CHAPTER XXIII.
PARSON BLAIR'S SNACK.—CHANCELLOR WYTHE.


GEORGE WYTHE, one of the signers of the Declaration of Independence, had removed to Richmond from the old city of Williamsburg, and was Chancellor of the State at this time. He lived in an old two-story framed house immediately in the rear of that large tulip poplar tree at the corner of Grace and Fifth streets, on the handsome lot where Mr. Abraham Warwick formerly resided. He had been intimate with John Blair, who had been president of William and Mary College when he was professor of law, and in consequence of that intimacy sought out our good Parson, John D. Blair, and delighted in his society and friendship, and through his means became equally intimate with Parson Buchanan. They soon became congenial companions and spent many happy hours together, sometimes sitting in the yard under the shade of the poplar, reading the Greek and Latin poets together in the originals, and at other times discussing questions suggested by Eurypides, Sophocles or Homer.

Old Mr. Burwell Bassett, who for many years subsequently represented the Williamsburg district in the Congress of the United States, and was a warm and intimate friend of the Chancellor, sent him a present of a large basket of fresh crabs, packed in ice, to keep, as he said, the kindly regard which each had entertained for the other fresh in their memories.

The Chancellor sent the greater portion of them to his
Page 358
friend, Parson Blair, and then meeting Parson Buchanan, as he was on his way to court, told him he had better drop in, for Parson Blair had sent a note asking him to come and partake of crabs at twelve o'clock, which, on account of his engagement, he was compelled to decline.

Parson Blair forthwith dispatched the following note to Mr. Munford, which was intended for himself and his brother-in-law, Mr. William Radford:

"DEAR SIR:

"Come over at twelve,
And in a crab delve,
   And put by your books of the law;
Without reading about it,
I can give you, don't doubt it,
   A very substantial good claw.
Could I get a word pat in,
In English or Latin,
About my friend William,
I'd get you to tell him,
I have crabs only two;
But if he'll come with you,
I'll give him 'his fairin','
In a charming 'broiled herrin'.'

"J. D. B."

Without a poetical answer all the amusement would have been lost; therefore Mr. Munford returns the following card:

"DEAR SIR:

" Your Rev'rence is good,
Both in doctrine and food,
   And in neither is ever deficient;
Page 359
Yet two crabs for three,
Yourself will agree,
   Can hardly be counted sufficient.

"But so often you joke,
Your intention I smoke,
   'Twas only with more to surprise us;
And if they should fall short,
You would well make up for 't,
   For your wit of itself satisfies us:

"Your wit without fault,
With choice Attic salt,
   We'll relish far more than a herring;
So William and I
From dull law books will fly,
   Our sorrows with you to be burying.

"W. M."

Mr. Radford, in recurring to the pleasantries of Parson Blair, said that, to amuse the Parson, upon the reception of this invitation he wrote a few lines of rhyme—the first and last attempt of the kind he had ever made. They ran thus:

"DEAR SIR:

"Mr. Munford has just answered your note,
Addressed to us both, and so cleverly wrote;
For which we indeed must allow you great merit,
And as for the fare, soon together we'll share it.

"When I read it at first I was greatly perplex'd,
And—cannot but say—was very much vex'd;
For against herrings I have an unconquerable spite,
While crabs I devour with the greatest delight.
Page 360
"But when I re-read and consulted your letter,
I found I was wrong, which suited much better;
For you mentioned the claw, not a word of the corpus,
As if to be eaten 'twas unfit as a porpoise.

"The 'dead man,' I know, will oftentimes choke 'em,
And mightily plague, and sometimes provoke 'em;
So at last I concluded that this was the law:
I'll eat the crab, and you eat the claw.

"W. R."

Parson Buchanan, as was his habit, had been making his parochial and charitable visits in the neighborhood, and having seen the two friends we have mentioned wending their way to the Parsonage, put his cane under his arm and his hands behind him, and said to himself: "Some mischief is brewing; friend Munford don't leave his business this time of day for nothing." Bearing in mind what the Chancellor had told him, he knocked at the door, and Parson Blair opening, gave him the welcome of "Well! well! What a nose he has! Clio is nothing to him. He can smell a crab a mile or more. Now, what shall we do?" appealing to his friends. "Here's brother Buchanan, just dropped in to share the corpus of that lone crab with Mr. Radford. William," said he, addressing Mr. Radford, "you will have to stick to the herring."

In a little while his daughter Betsy came in with a nice broiled herring in a plate, with a cracker or two, and two fine crabs in another plate, and set them down on the table, which was still in its place since breakfast. Then running up to Parson Buchanan, she kissed him affectionately, and, shaking hands cordially with the other friends, said: "Now, cousin William, papa says the herring is for you; one crab for cousin Munford, and the
Page 361
other for Mr. Buchanan, and papa will have to make out with the crackers."

"Now," says Parson Blair, "you expected something more, I know; but I sent you my bill of fare, and it is better and more bountiful than the dinner we obtained at Dr. McCaw's not long since."

"What had you there?" said Parson Buchanan.

"Well, simply nothing," he replied. "Dr. McCaw had invited some friends to come and dine with him, but having been called off to visit a patient, and not sending to market in time, the butcher sold the lamb and veal and other things laid by for him, and he was compelled to send word to his intended guests that, for that day, his 'cake was all dough;' upon which I sent him a remonstrance."

Drawing from his pocket a small note, he read:

"Well! well! well! well! and is it so,
That all your 'cake is turned to dough?'
Then it has come to this at last,
That, Parson-like, I'm left to fast;
But I must not of this repent,
Because it seems it's time of Lent;
Yet still, as I'm not of the church
That lives on catfish, shad, or perch,
What need is there that I, a sinner,
Should be so cheated of my dinner?
Were it 'all-fools-day,' I protest,
I scarce could laugh at such a jest;
But it appears the cause of all
Arose from butcher Mettard's stall;
Who, by mistake, sold all the meat
Intended for the guests to eat."

"We had a dinner a few days after that was not to be
Page 362
sneezed at. Now, you see, my crabs and herrings are both in place; so set to work and clean them out."

At this there was a hearty laugh, and they began in good earnest.

In a little while, however, old Faris came in and said, "Master, missis say you must bring the gem'men in the dining-room."

When they repaired thither, the good wife welcomed them to a magnificent dish of crabs, all picked and baked in their own shells, steaming hot, with the best of butter, pepper, salt, and grated crackers, nicely browned, with many other nick-nacks, and a first-rate dish of fried perch.

"Now," said she, "Mr. Blair has given you his snack in the other room; Betsy and I welcome you to ours here."

As if it was all a surprise to him, he exclaimed, "Dear! dear! This is better than 'two crabs for three.'"

"And I think, William, the perch are better than 'the charming broiled herring.'"

Mr. Munford added, "and Mrs. Blair's cake is not 'all dough.'"

Parson Buchanan said, "though he's not of the right church is keeping Lent, and couldn't get any catfish or shad, he is very happy at having a nice dish of perch."

"Well," said Parson Blair, "I've always heard it said that fish and crabs should swim three times: 'First in water, next in butter, then in wine.' As we have no wine, the next best substitute I know of is a glass of 'fun,' sipped all round, after the old style. Brother Buchanan, I have a little more of friend Mutter's old cogniac left, and I'll brew you something to keep the crabs from kicking." He made a tumbler of "fun," of which each having taken a mouthful, they adjourned to the next room, fully content with the repast. "Now," said Parson Blair, "I am going to give you a
Page 363
history of the perch and the crabs. My sons went to the river this morning, and had fine sport catching the perch in the falls. They say the fishermen, with their skimming nets, were very successful catching the finest shad. I have seen them passing through the streets with hundreds, strung upon their boat poles, and selling them as low as ten cents for the best. No man, woman or child, need want when such fish are sold at this price; and they sell still lower by the quantity. For the crabs I am indebted to our old friend, Chancellor Wythe. He sent me a large basket full this morning, with a kind note, saying they were a present to him from Mr. Bassett, in Williamsburg. So you see we had our dinner furnished by Him who feeds the sparrows and the ravens."

Parson Buchanan added, "I did not let on, but the Chancellor told me he had sent them, and that is the reason my nose was so sharp."

Mr. Munford said: "Chancellor Wythe is the best friend I ever had, and one of the most remarkable men I ever knew, and he certainly has been as kind to me as a father. For what I know of Greek, Spanish, and Italian I am indebted to him. When my father died, leaving his estate somewhat embarrassed with debt, I was attending the grammar school attached to the old college of William and Mary, and Mr. Wythe was then Professor of Law. My mother wrote that she feared her circumstances would not permit me to return to college. Mr. Wythe sent her immediately one of his kindest letters, saying she must not think of stopping my education; that he would take me into his own family, and give me such instruction as he could bestow, either personally or by paying the professor's fees. He had taken a fancy to me, and he said he greatly desired that she would comply with this request. From that time for three years, at all spare moments, he devoted himself without
Page 364
reward to my instruction, giving me the best and most excellent advice, and imparting knowledge which I never could have acquired otherwise. Subsequently he gave me the use of his law library, and instructed me in the course pursued by himself in studying law, saying, 'Don't skim it; read deeply, and ponder what you read; they begin to make lawyers now without the viginti annorum lucubrationes of Lord Coke;[2] they are mere skimmers of law, and know little else.' Old as he is, his habit is, every morning, winter and summer, to rise before the sun, go to the well in the yard, draw several buckets of water, and fill the reservoir for his shower-bath, and then drawing the cord, let the cold water fall over him in a glorious shower. Many a time have I heard him catching his breath and almost shouting with the shock. When he entered the breakfast room his face would be in a glow, and all his nerves were fully braced. Only a few days ago, when I called upon him he was teaching himself Hebrew, studying closely with grammar and dictionary, and once a week a Jewish rabbi by the name of Seixas attends him, to see how he progresses and to give him advice. He still shows me every kindness, and welcomes me as one of his warmest friends. Many a kind note have I received from him since he removed to Richmond, with Greek, Latin, or Spanish sentences interspersed, for he evidently takes much pleasure in writing in those languages. I should indeed be ungrateful if I did not acknowledge my indebtedness to him; and though he is in no manner connected with me by blood, I have, as you know, Mr. Blair, called my oldest son by his name, in memory of his attachment to me and my devotion to him. No remuneration would he ever accept, either for board or tuition, from my mother or myself."

"And besides all that," said Parson Blair, "he does not forget me, as you can now testify."
Page 365
"Nor does he forget the poor," said Parson Buchanan, "as I have had occasion to know; for more than once he has enclosed money to me in a note, simply containing the request, 'Please devote the enclosed to such charity as you may think deserving.' Such a man is entitled to the popularity he has so richly earned."

They thus continued in their usual pleasantries, until "Phœbus ayont the western hills had just retired." They then returned home, delighted with their pleasant reunion.
See also
References
↑ George Wythe Munford, "Parson Blair's Snack", in The Two Parsons; Cupid's Sports; The Dream; and The Jewels of Virginia, (Richmond, Virginia: J.D.K. Sleight, 1884), 357-365.
↑ 'Lucubrationes viginti annorum': "Night-time studies of twenty years." John Fortescue, De Laudibus Legum Angliæ, chapter 8.
External links