Morris v. Ross
From Wythepedia: The George Wythe Encyclopedia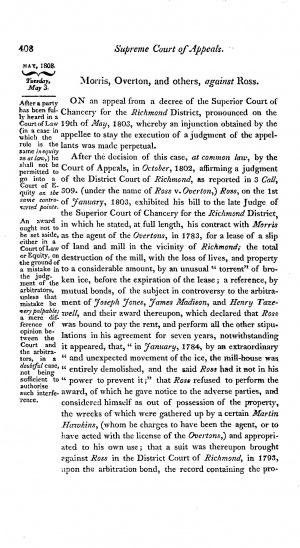 In Morris v. Ross, 12 Va. (2 Hen. & M.) 408 (1808),[1] the Court determined whether a Court of Chancery could review a decision made in the Court of Law.
Background
In 1783, Ross entered a contract with Morris, an agent of the Overton, to lease a tract of land and a mill near Richmond. Before the lease expired, an "unusual torrent of broken ice" destroyed the mill and killed several people, leaving a considerable amount of property damage. Ross attempted to get out of the lease and went to arbitration over the controversy. The arbitrators: Joseph Jones, James Madison, and Henry Tazewell, determined that Ross was still bound to pay the rent on the mill and perform all other stipulation placed in the seven year disagreement. This was declared despite the considerable damage done to the mill. Ross refused to perform the award and Overton sued him in the District Court of Richmond in 1793. The district court entered a judgment against Ross for 3,530£ and Ross appealed to the Supreme Court of Appeals. In October 1802, the appellate court affirmed the judgment in Ross v. Overton. On January 1, 1803, Ross filed his suit in the Superior Court of Chancery hoping to obtain relief in a court of equity.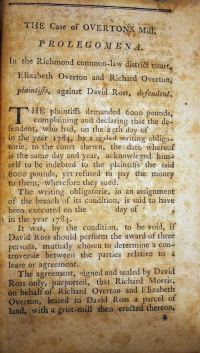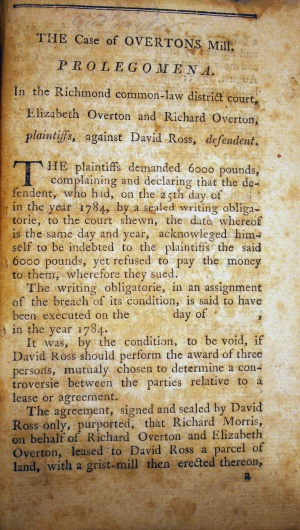 The Court's Decision
On May 19, 1803, Chancellor Wythe freely criticized the Court of Appeals and granted Ross an injunction, staying the judgment. He published an informal version of his opinion in The Case of Overton's Mill: Prolegomena.[2]. The Court of Appeals reversed this decision in Morris v. Ross.
See also
References
↑ William Hening and William Munford, Reports of Cases Argued and Determined in the Superior Court of Appeals of Virginia: With Select Cases, Relating Chiefly to Points of Practice, Decided by the Superior Court of Chancery for the Richmond District, (Flatbush (N.Y.): I. Riley, 1809), 2:408.
↑ George Wythe, The Case of Overton's Mill: Prolegomena, in the Richmond Common-Law District Court, Elizabeth Overton and Richard Overton, Plaintiffs, against David Ross, Defendent [sic] (Richmond, VA: Thomas Nicolson, 1805?).