Cases Collect & Report per Sir Fra. Moore, Chivalier
From Wythepedia: The George Wythe Encyclopedia
by Sir Francis Moore
Sir Francis Moore (1559 – 1621), a lawyer and politician, entered St. John's College, Oxford in 1574.[1] Although he never received an undergraduate degree, he received an MA as under-steward to the University in 1612.[2] Moore entered the New Inn, gained admittance to the Middle Temple in 1580,[3] and was called to bar in 1587.[4] His ascent in the political and legal fields was rapid.[5] In 1589, Moore was elected to Parliament for Boroughbridge in Yorkshire,[6] and was appointed to the bench of Middle Temple in 1603.[7] In 1614, he was made a serjeant and, three years later, became a knight.[8] Moore died in 1621 and was buried in Great Fawley, Berkshire.[9]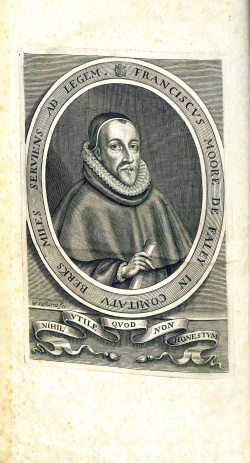 Moore amassed great wealth, spending nearly £10,000 on property alone.[10] As a member of Parliament he was loyal supporter of his constituents, and remained an active opponent of monopolies.[11] He was particularly adept with the law of uses, drafting the statute of charitable uses and inventing the conveyance of lease and release.[12] Religiously, Moore may have remained a Catholic. Although Moore supported anti-recusant legislation in 1601, his will, marriage of a daughter into a Catholic family, and the allegations of his wife of being a recusant after his death indicate that he may have remained loyal to the Church.[13]
After his death, Moore's manuscripts were highly regarded, being circulated widely for nearly forty years before their publication by his son-in-law, Sir Geoffrey Palmer, in 1663.[14]
Evidence for Inclusion in Wythe's Library
Listed in the Jefferson Inventory of Wythe's Library as "Moore's rep. fol." and given by Thomas Jefferson to Dabney Carr. The Brown Bibliography[15] includes the 1688 edition which Thomas Jefferson also owned.[16] Dean's Memo suggests the 1663 edition.[17] George Wythe's Library[18] on LibraryThing indicates "Precise edition unknown. Folio editions were published at London in 1663, 1675 and 1688." The Wolf Law Library purchased a copy of the 1688 edition, as suggested by Brown.
Description of the Wolf Law Library's copy
Backed in modern leather with cloth-covered boards.
Images of the library's copy of this book are available on Flickr. View the record for this book in William & Mary's online catalog.
Full text
See also
References