The First Part of the Institutes of the Laws of England, or, A Commentary upon Littleton, not the Name of the Author Only, but of the Law It Selfe
From Wythepedia: The George Wythe Encyclopedia
by Sir Edward Coke
Coke on Littleton

Title page from Coke on Littleton, George Wythe Collection, Wolf Law Library, College of William & Mary.

Author
Sir Edward Coke
Editor
{{{editor}}}
Translator
{{{trans}}}
Published
London: Printed by William Rawlins, Samuel Roycroft, and H. Sawbridge, assigns of Richard Atkins and Edward Atkins, esquires. And are to be sold by Christopher Wilkinson, Richard Tonson, and Jacob Tonson
Date
1684
Edition
{{{edition}}}
Language
French and English
Volumes
{{{set}}} volume set
Pages
14, 28 pages, 395 numbered leaves, [62] pages
Desc.
Folio (32 cm.)
Location
Shelf L-5
 
[[Shelf {{{shelf2}}}]]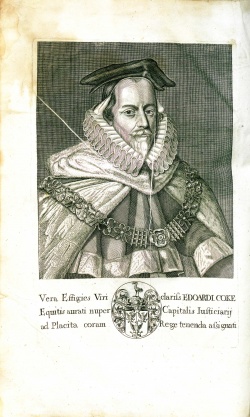 Born on February 1, 1552 at Mileham, Norfolk, Sir Edward Coke (1552 – 1634) was arguably the most prominent lawyer, legal writer, and politician during the Elizabethan and Jacobean eras, and a defender of the common law over the use of the Stuarts' royal prerogative.[1]
Coke began his studies in 1567 at Trinity College during the years of the Vestiarian controversy — puritan protests against the Church of England. In 1572 he moved on to study at the Inner Temple, where he was admitted to the bar on April 20, 1578. Coke quickly rose to prominence through his successful execution of several noteworthy cases, such as Shelley's case. Coke's analytical efforts helped to refine the legal doctrines of English law, and his reputation won him a seat in Parliament. He would later become the Speaker of the House of Commons and eventually attorney general.[2] In 1606, after being created serjeant-at-law, Coke was appointed chief justice of the Court of Common Pleas. He was transferred, against his will, to chief justice of the Court of King's Bench in 1613; he also became a member of the privy council.[3]
After several political and judicial skirmishes with James I and Francis Bacon, Coke was suspended from the privy council and removed from the bench in 1616.[4] Although he never returned to the bench, Coke did return to Parliament and was elected to that body four times from 1620 to 1629. During this time he took a lead in creating and composing the Petition of Right. "This document cited the Magna Carta and reminded Charles I that the law gave Englishmen their rights, not the king ... Coke's petition focused on ... due process, protection from unjust seizure of property or imprisonment, the right to trial by jury of fellow Englishmen, and protection from unjust punishments or excessive fines."[5] After this triumph, Coke spent his remaining years at his home, Stoke Poges, working on The Institutes of the Laws of England, another endeavor for which he is rightly famous.[6]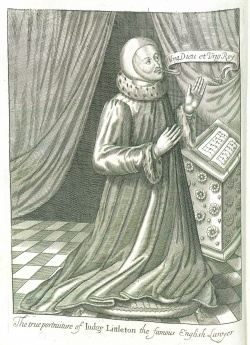 The First Part of the Institutes of the Laws of England, published in 1628, was the only part of the four volume Institutes to be appear in print during Coke's lifetime.[7] Unlike the other three volumes of wholly original writing, it took the form of a commentary on an earlier work, Sir Thomas Littleton's Tenures. Littleton's Tenures was "a brief treatise on the Laws of England in relation to land" first published in 1481.[8] Coke's Commentary upon Littleton greatly expanded the original. It was organized into three columns of text: Littleton's original Law French; Coke's English translation; and Coke's commentary.[9] Coke's additions to the original text were extensive, and included observations on issues not touched upon by Littleton at all.[10] The First Part of the Institutes was "in fact a legal encyclopaedia arranged on no plan except that suggested by the words and sentences of Littleton."[11]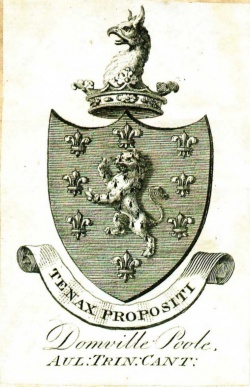 Evidence for Inclusion in Wythe's Library
Description of Wolf Law Library Copy
Bound in contemporary calf; hand-labeled on spine. Copy imperfect, lacks leaf 230. Includes the bookplate of "Domville Poole, Aul:trin:cant." and autographed "John L. Abbot, 1957-" in blue ballpoint on the front pastedown. Flyleaf has numerous annotations in brown/black ink. Volume annotated throughout in brown/black ink.
Images of the library's copy of this book are available on Flickr. View the record for this book in William & Mary's online catalog.
See also
External links
References