Complaint, Lewis v. Chew, February 1748
From Wythepedia: The George Wythe Encyclopedia
A complaint of Fielding Lewis against a debt of £80 owed him by Thomas Chew, signed by George Wythe as attorney for the plaintiff, and dated February, 1748. Wythe asks for damages of forty shillings.
Colonel Fielding Lewis (1725-1781) married George Washington's sister, Betty Washington, in 1750.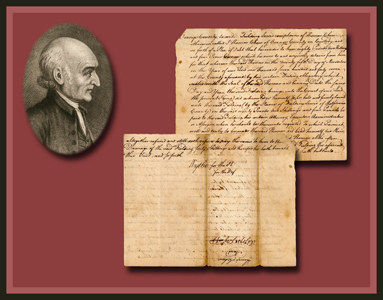 Document Text, February 1748
Page 1
Orange County so with Fielding Lewis complains of Thomas Chew otherwise called J Thomas Chew of Orange County in Custody and so forth of a Plea of Debt that he render to him eighty Pounds two Shillings and four Pence which he owes to and unjustly detains from him for that whereas the said Thomas on the twenty fifth Day of November in the Year of our Lord one Thousand seven hundred and forty seven at the County aforesaid, by his certain writing obligatory (which sealed with the Seal of the said Thomas and bearing Date the Same Day and Year, the said Fielding brings into the Court of our Lord the present thing) did acknowledge himself to be held and firmly bound unto the said Fielding, his certain Attorney, Executors, Administrators or Assigns, when he should be thereunto required to which Payment well and truly be made the said Thomas did bind himself his Heir [text obscured] Thomas altho often Fielding the aforesaid hath hitherto
Page 2
altogether refused and still doth refuse to pay the same to him so the Damage of the said Fielding forty Shillings and therefore he hath brought this Suit, and so forth.

Wythe for the Pl.

for the Def.