A Collection of American Epitaphs and Inscriptions with Occasional Notes
From Wythepedia: The George Wythe Encyclopedia
This collection of American gravestone epitaphs and biographical notes compiled by the Reverend Timothy Alden, published in 1812-14, contains sections on both Edmund Pendleton and George Wythe.[1] The much-longer memoir of Pendleton was written at the request of Alden by a "distinguished citizen of Virginia," most likely William Wirt. Edmund Pendleton, the youngest of five sons, obtained a law license upon becoming of age despite a limited formal education. He would go on to be elected to the Virginia legislature and serve as Attorney General under James Monroe and John Quincy Adams. Throughout his life he had a well-known rivalry with George Wythe.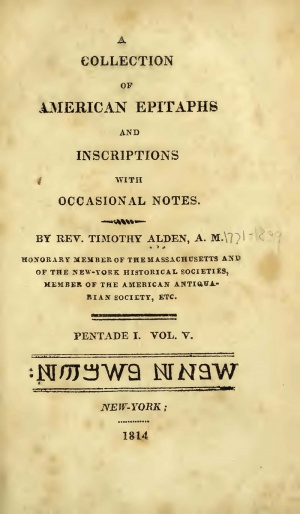 Letter text, 4 July 1776
Page 37
"Mr. Pendleton and Mr. Wythe were the leading lawyers at the bar of the supreme court of Virginia, for many years. The gentlemen of this profession, are observed to be less addicted to the sensations generally inspired by rivalry, than those of any other, and perhaps it would be difficult to find two characters, less likely to feel them. Yet such sensations were felt at the bar by these gentlemen, and produced occasional interruptions of civility. These were always of short duration. Their minds invariably subdued a passion, not less erroneous, than untractable, and rushed towards each other through the obstruction of mutual jealousy, from the conviction of mutual worth. Mr. Wythe was placed next to mr. Pendleton on the bench, and they served for years in the same courts in great harmony; but being separated by a new arrangement, it became mr. Pendleton's duty, as president of the court of appeals, to revise the decrees of mr. Wythe as chancellor. Several revisals of these revived the old sensations, and mr. Wythe printed a volume of cases, reported chiefly for the purpose of justifying his own decisions, and treating with some bitterness those of the court of appeals. Mr. Pendleton at first resolved to report the same cases and commenced the work, but desisted, and mr,
Page 38
Wythe's book made no impression. Their friendship was not as cordial after as before this event, and the anecdote is related to awaken a watchfulness against the suggestions of competition, by the consideration that they found their way into the best hearts, and the soundest heads.

"The writer of this article knew mr. Pendleton intimately above the last fifty years of his life. "Without courting popularity, suppressing his opinions, or subscribing to temporary dogmas, he was extremely popular ; and he lived and died a proof, that, if an affectation of zeal, for some particular party, may be necessary to advance the personal views of men of inferior understanding or little merit, still, real talents, useful actions, and a sound moral character will enable a man to exercise an honest independence, and gain the esteem of the wise and good more permanently, than the arts, which deceive, corrupt, and enslave, can gain the applause of the foolish or wicked."



---

RICHMOND, VIRG.

363. Note. – The hon George Wythe late chancellor of Virginia, was born in the county of Elizabeth city and died, after a short but excruciating sickness, on the 8 of June, 1806, in the 81 year of his age. From certain circumstances, it is supposed that he was poisoned, but the person suspected of having been guilty of the nefarious deed was cleared by a jury.

A full and interesting sketch of this noted character
Page 39
is given in the Biog. Dict, of which mr. John Kingston of Baltimore is the author, whose labours have superseded the necessity of introducing sundry articles, especially from the southern states, into this Collection. The author of this work, however, with much pleasure, introduces the following paragraphs with the hope, that his patrons will be induced, from this specimen, to procure and peruse the valuable production, from which he quotes the subsequent passage in reference to the distinguished subject of this notice.

"Chancellor Wythe was indeed an extraordinary man. With all his great qualities he possessed a soul replete with benevolence, and his private life is full of anecdotes, which prove, that it is seldom that a kinder and a warmer heart throbs in the breast of a human being. He was of a social and affectionate disposition. From the time when he was emancipated from the follies of youth, he sustained an unspotted reputation. His integrity was never even suspected. While he practised at the bar, when offers of an extraordinary but well merited compensation were made to him by clients, whose causes he had gained, he would say, that the labourer was indeed worthy of his hire, but the lawful fee was all he had a right to demand, and as to presents he did not want and would not accept them from any man. This grandeur of mind he uniformly preserved to the end of his life. His manner of living was plain and abstemious. He found the means of suppressing the desire of wealth, by limiting
Page 40
the number of his wants. An ardent desire to promote the happiness of his fellow men by supporting the cause of justice, and maintaining and establishing their rights, appears to have been his ruling passion.

"As a judge, he was remarkable for his impartiality and sincere attachment to the principles of equity, for his vast and various learning, and for his strict and unwearied attention to business. Superior to popular prejudice and every corrupting influence, nothing could induce him to swerve from truth and right. In his decisions he seemed to be a pure intelligence, untouched by human passions, and settling the disputes of men according to the dictates of eternal and immutable justice. Other judges have surpassed him in genius, and certain facility in despatching causes, but while the vigour of his faculties remained impaired, he was seldom surpassed in learning, industry, and judgment.

"From a man, entrusted with such high concerns, and whose time was occupied by so many difficult and perplexing avocations, it could scarcely have been expected that he should have employed a part of it in the toilsome and generally unpleasant task of the education of youth. Yet even to this he was prompted by his genuine patriotism and philanthropy, which induced him for many years to take great delight in educating such young persons as showed an inclination for improvement harassed as he was with business, and enveloped with papers belonging to intricate suits in chancery, he yet
Page 41
found time to keep a private school for the instruction of a few scholars, always with very little compensation and often demanding none. Several living ornaments of their country received their greatest lights from his sublime example and instruction such was the upright and venerable Wythe."
References
See also
External links