Wythe to St. George Tucker, 2 January 1786
From Wythepedia: The George Wythe Encyclopedia
George Wythe lets St. George Tucker know that he cannot take in the gentleman Tucker wished to put under his care; however, Wythe says that he will still help the man within his power.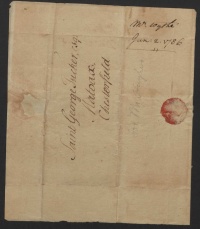 Letter text
Page 1
Saint George Tucker, esq.
Matoax,
Chesterfield
<endorsed> Mr. Wythe
Jan:2, 1786
Page 2
Dear sir,

I cannot take into my house as a boarder and lodger; the young gentleman, whom you wish to put under my care; but i will, with pleasure, do for him any good office in my power. i am, with sincere respect,

Dear sir,
Your most obedient
G. Wythe.
2 jan. 1786.
See also