Wythe to Robert Carter, 29 May 1772
From Wythepedia: The George Wythe Encyclopedia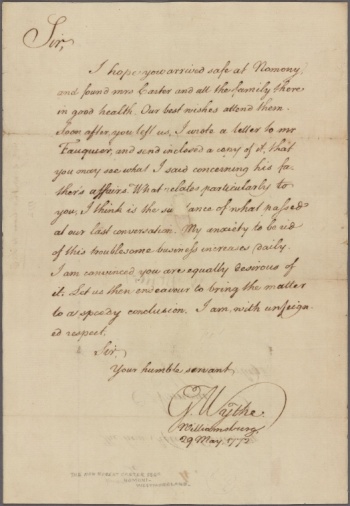 George Wythe writes to Robert Carter saying that he hopes Carter arrived safely at his home of Nomony Hall[1] and that his family is in good health. Wythe encloses a letter he wrote to a Mr. Fauquier discussing Fauquier's father's business because he believes it relates to his and Carter's recent conversation. He hopes the business he and Carter are dealing with will be concluded soon.
Letter text, 29 May 1772
Sir,
I hope you arrived safe at Nomony [sic], and found mrs Carter and all the family there in good health. Our best wishes attend them. Soon after you left us, I wrote a letter to mr Fauquier,[2] and send inclosed a copy of it, that you may see what I said concerning his father's affairs. What relates particularly to you, I think is the substance of what passed at our last conversation. My anxiety to be rid of this troublesome business increases daily. I am convinced you are equally desirous of it. Let us then endeavor to bring the matter to a speedy conclusion. I am, with unfeigned respect,

Sir,

Your humble servant,

Williamsburg,
29 May, 1772
See also
References
↑ The Colonial Williamsburg Foundation "Robert Carter : The Colonial Williamsburg Official History & Citizenship Site"
↑ Presumably, one of the two sons of Francis Fauquier (d. 1768), former lieutenant governor of the Virginia colony.