The Works of Francis Bacon
From Wythepedia: The George Wythe Encyclopedia
The Works of Francis Bacon, Baron of Verulam, Viscount St. Alban, Lord High Chancellor of England ... With Several Additional Pieces, Never Before Printed in any Edition of His Works
by Francis Bacon
The Works of Francis Bacon

Title page from The Works of Francis Bacon, volume one, George Wythe Collection, Wolf Law Library, College of William & Mary.

Author
Francis Bacon
Editor
David Mallet
Translator
{{{trans}}}
Published
London: A. Millar
Date
1740
Edition
{{{edition}}}
Language
English
Volumes
4 volume set
Pages
{{{pages}}}
Desc.
Folio (33 cm.)
Location
[[Shelf {{{shelf}}}]]
 
[[Shelf {{{shelf2}}}]]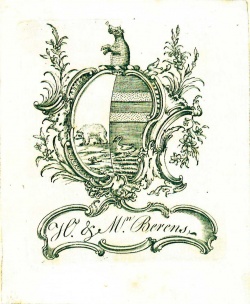 Francis Bacon, Viscount St Alban (1561–1626) was a scientist, politician, and philosopher.[1] Though his writings are voluminous, he is best known for his works on natural philosophy, The Advancement of Learning, and Novum Organum Scientiarum, which helped to usher in the enlightenment. These works laid the foundation for what became known as the scientific method.[2]

Born to a noble family on January 22, 1561, Bacon was educated at home until 1573.[3] He continued his education at Trinity College in Cambridge and Gray's Inn until the death of his father in 1579.[4] During these years, he was influenced by the Renaissance humanism with its concern for public virtue.[5] This led him to enter politics and he became member of Parliament in 1581. However, it was not until the ascension of James I that his political career advanced.[6] In 1618, Bacon became Lord Chancellor and was created Baron of Verulam. Just three years later, he was created Viscount of St. Alban.[7] In 1621 Bacon confessed to a charge of corruption and was barred from ever holding political office again.[8]

Bacon wrote many works throughout and after his political career. 1597 marks the date of his first published works, a collection of political essays that was later expanded.[9] During the years of 1603-1613 he published The Advancement of Learning as well as numerous other works.[10] During his last five years of life he wrote a variety of works, but focused on his never completed natural philosophy treatise, Novum Organum Scientiarum.[11] Bacon died April 9, 1626.
Evidence for Inclusion in Wythe's Library
Listed in the Jefferson Inventory of Wythe's Library as "Bacon's works. 4.v. fol." and given by Thomas Jefferson to his son-in-law, Thomas Mann Randolph. Later appears on Randolph's 1832 estate inventory as "'Bacon's Works' (4 vols., $10.00 value)." Both George Wythe's Library[12] on LibraryThing and the Brown Bibliography[13] list the 1740 London edition and this was the edition purchased by the Wolf Law Library.
Description of the Wolf Law Library's copy
Bound in full contemporary calf covered boards, spine recently re-backed in calf, in seven compartments with decorative gilt stamps and raised bands. Has maroon label with gold title stamp and black and red printed title pages with a unique engraved frontispiece in volumes one two and three. Edges of text block tinted red. Each volume includes the armorial bookplate of Hs. and Mn. Berens. Bookplate iconography includes: Argent a bear passant [Berens]. Impaling azure two bends or, in base a swan [Riou]. Crest, a demi bear.
Find this book in William & Mary's online catalog.
References
External Links
Read volume three of this book in Google Books.