Difference between revisions of "Wallace v. Taliaferro"
From Wythepedia: The George Wythe Encyclopedia
m

m

 

Line 14:
Line 14:
 

__NOTOC__

 

__NOTOC__

 

[[Category: Cases]]

 

[[Category: Cases]]

 
+
 
+
---
Latest revision as of 15:52, 12 December 2019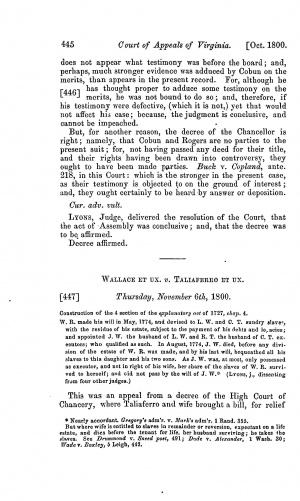 Wallace v. Taliaferro, 6 Va. 445, 2 Call 447 (1800),[1] was a case where the Court determined whether a deceased husband's heirs were entitled to slaves shortly after they were devised to his wife.
Background
On May 11, 1774, William Rowley made a will devising slaves and the rest of his estate to Lettice Wishart and Catharine Taylor. William also appointed Lettice and Catharine's husbands, John Wishart and Richard Taylor, as executors of his will. On September 25 of that year, William died. After William's death, John made his will conveying all his slaves to be equally divided between his two sons William and Sydney Wishart, and his daughter, the plaintiff. John Wishart died just before Christmas of 1774. After John's death, William Rowley's slaves were divided between Lettice and Catharine according to his will. Further, Lettice Wishart remarried Michael Wallace, who took possession of all of Lettice's slaves and estate. The plaintiff, Taliaferro, on behalf of his wife sued in the High Court of Chancery to obtain his wife's portion of the slaves as determined by her father's will and for general relief.
The Court's Decision
Chancellor Wythe cited a statute stating that slaves devised to a feme covert (woman) were in effect accrued and vested to her husband. Based on the statute, Wythe reasoned that Lettice's slaves became the assets of John Wishart and thus were inherited by John and Lettice's children. Wythe, then decreed that Taliaferro was entitled to a third of Lettice's slaves. The Court of Appeals reversed the decision and dismissed the case.
See also
References
↑ Daniel Call, Reports of Cases Argued and Adjudged in the Court of Appeals of Virginia, 3rd ed., ed. Lucian Minor (Richmond: A. Morris, 1854), 2:447. George Wythe owned the first edition of this set.