The Universal Dictionary of Trade and Commerce
From Wythepedia: The George Wythe Encyclopedia
by Malachy Postlethwayt
The Universal Dictionary of Trade and Commerce

Title page from The Universal Dictionary of Trade and Commerce, volume one, George Wythe Collection, Wolf Law Library, College of William & Mary.

Author
Malachy Postlethwayt
Editor
{{{editor}}}
Translator
{{{trans}}}
Published
London: Printed for H. Woodfall, A. Millar, J. and R. Tonson, J. Rivington, J. Hinton, R. Baldwin, L. Hawes and W. Clarke and R. Collins, R. Horsfield, W. Johnston, T. Longman, J. Brotherton, J. Dodsley, T. Payne, J. Robson, T. Lowndes, W. Nicoll, and J. Knox
Date
1766
Edition
Third
Language
English
Volumes
2 volume set
Pages
{{{pages}}}
Desc.
Folio (43 cm.)
Location
[[Shelf {{{shelf}}}]]
 
[[Shelf {{{shelf2}}}]]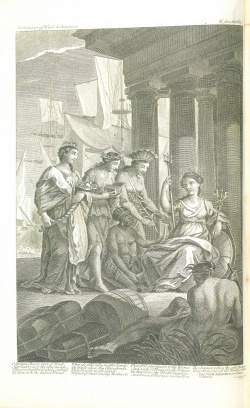 Malachy Postlethwayt (1707-1767) was a British economic writer and author. Beginning in the 1730's he was employed by Prime Minister Robert Walpole as a government publicist.[1] Postlethwayt was elected as a fellow to the Society of Antiquaries in March of 1735.[2] In 1743 he began his employment with the Royal Africa Company, and was elected a member of the company's court of assistants in 1745.[3] During the 1740's and early 1750's Postlethwayt prepared his most critically acclaimed work, The Universal Dictionary of Trade and Commerce, which was released as two installments between 1751 and 1755.[4]

Postlethwayt's Universal Dictionary of Trade and Commerce, as compared to other popular economic writings at the time, illustrated his interest in political problems, economic nationalism, and a belief in the economic usefulness of experimental philosophy.[5] The Universal Dictionary of Trade and Commerce contained many practical articles on inventions and improvements, as well as on commercial practices such as banking, commercial bills, and customs house business.
Evidence for Inclusion in Wythe's Library
Listed in the Jefferson Inventory of Wythe's Library as "Postlethwayt's Dictionary. 1. of the vols only. fol." and given by Thomas Jefferson to his son-in-law, Thomas Mann Randolph. Later appears on Randolph's 1832 estate inventory as "'Dictionary of Trade & Commerce' ($2.00 value)." We do not have enough information to conclusively identify which edition Wythe owned. George Wythe's Library[6] on LibraryThing indicates this, adding "Several folio editions were published, the first in 1751-55." The Brown Bibliography[7] lists the third edition published in London in 1766 based on the copy Jefferson sold to the Library of Congress in 1815.[8] This was the edition purchased by the Wolf Law Library.
Description of the Wolf Law Library's copy
Bound in contemporary speckled calf with spines in seven compartments with raised bands. Tooled in gilt on either side of each band. Dark red and dark green morocco lettering-pieces in the second and third compartments, the others with a repeat decoration in gilt with marbled endpapers. Purchased from Donald a. Heald Rare Books.
View this book in William & Mary's online catalog.
References