A Treatise of Practical Surveying: Which is Demonstrated From its First Principles Wherein Every Thing That is Useful and Curious in that Art, is Fully Considered and Explained
From Wythepedia: The George Wythe Encyclopedia
by Robert Gibson
A Treatise of Practical Surveying

Title page from A Treatise of Practical Surveying, George Wythe Collection, Wolf Law Library, College of William & Mary.

Author
Robert Gibson
Editor
{{{editor}}}
Translator
{{{trans}}}
Published
Philadelphia: Printed by Joseph Crukshank ...
Date
1789
Edition
Fifth
Language
English
Volumes
{{{set}}} volume set
Pages
viii, 272, [1], 90 pages, [12] pages of folded plates
Desc.
8vo (21 cm.)
Location
Shelf L-4
 
[[Shelf {{{shelf2}}}]]
In the late eighteenth century the rapid progression of development into areas of the United States that were previously unsettled created a heightened need for accurate and consistent techniques to measure property rights and settle disputes that arose out of infringement of those rights. A Treatise of Practical Surveying: Which is Demonstrated from its First Principles; Wherein Every Thing That is Useful and Curious in that Art, is Fully Considered and Explained… was authored by Robert Gibson to standardize the process by providing surveyors with a definitive guide to surveying property. Gibson's work contains extensive coverage of the geometric principles involved in surveying property, as well as details on the different surveying methods that may be employed by a surveyor.[1]
Evidence for Inclusion in Wythe's Library
Listed in the Jefferson Inventory of Wythe's Library as "Gibson's surveying. 8vo." This was one of the titles kept by Thomas Jefferson and later sold to the Library of Congress in 1815. George Wythe's Library[2] on LibraryThing indicates "Precise edition unknown." The Brown Bibliography[3] lists the 1790 (5th) edition, based on Millicent Sowerby's entry in Catalogue of the Library of Thomas Jefferson.[4] Although Jefferson's copy no longer exists to conclusively verify the edition, the Wolf Law Library did choose to purchase the edition suggested by Sowerby.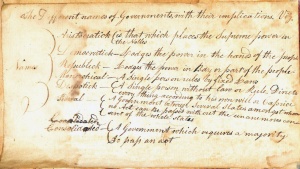 Description of the Wolf Law Library's copy
Bound in contemporary calf with leather spine label. Includes manuscript notes on the front free endpaper, the verso of the front free endpaper, the verso of the title page, and the recto of the rear free endpaper. The title page features signatures of two previous owners, "James Dermott, January 6th, 1791" and "Thos Hooe, his Gibson, February the 3rd, 1792." Thomas Hooe also inscribed the recto of the front free endpaper "Thomas Hooe his book, August 10th, 1791." and the verso of the rear free endpaper "Thos Hooe, Scripsit hoc anno Domini 1791." Purchased from Bartleby's Books.

Images of the library's copy of this book are available on Flickr. View the record for this book in William & Mary's online catalog.
See also
References