Thomas Greenough to Wythe et al, 8 June 1776
From Wythepedia: The George Wythe Encyclopedia
Around six months after his first letter to George Wythe, Silas Deane, and John Adams, Thomas Greenough writes again to say that even more of Noodle's Island has been damaged. He includes a list of the trees and property destroyed. He then asks, if at all possible, for Wythe, Adams, and Deane to pay for least a portion of the losses of £1520 of one hundred pounds Sterling so that the town can begin rebuilding with the troops now gone from Boston.
Letter text
Page 1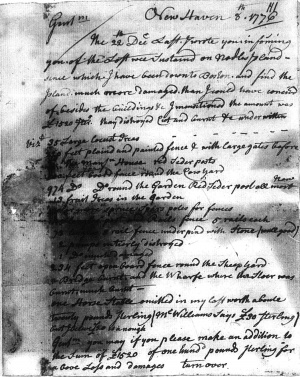 New Haven 8th 1776

Gentm.

The 22d Dec. Last, I wrote you informing you of the Loss we Sustained on Noddle's Island since which, I have been down to Boston, and find the Island much more damaged than I could have conceived of, besides the buildings &c, I mentioned the amount was £1520. They distroyed, cut, and burnt &c underwritten

Viz. 35 Large locus trees

22 feet plaind and painted fence & with large gates before the mansion House red Seder posts

500 feet board fence round the cowyard

974 Ds    Ds round the Garden Red Seder posts all most new

13 fruit trees in the Garden

100 or more spruce Spars, poles for fences

45 lengths post and rails fence, 5 rails each

78 lengths 3 rail fence underpind with Stone (wall good)

2 pumps entirely distroyed

1 Ds much damaged

234 feet open board fence round the Sheepyard

A Bridge burnt and the Wharfe where the Store was burnt, much burnt–

One Horse Stable omitted in my last worth aboute twenty pounds Sterling (McWilliams Says £30 Sterling) but I believe £20 is enough

Gentm. you may if you please make an addition to the Sum of £1520 of one hund. pounds Sterling for above Loss and damages

turn over.
Page 2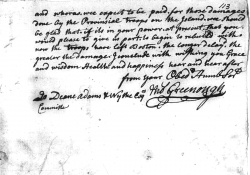 and whereas we expect to be paid for those damages done by the Provisional Troops on the Island, we should be glad that if its in your power at present that you would please to give us part to begin to rebuild with now the troops have left Boston. the longer delayd. the greater the damage. I conclude with wishing you Grace and wisdom Health and happiness hear and hear after

from your Obedt. Humb. Servt.

Thos. Greenough

To Deane Adams & Wythe Esq

Committee
Page 3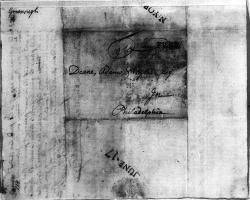 Greenough

To

Deane, Adams, & Wythe Esqs.

In

Philadelphia
See also