Seal of the College
From Wythepedia: The George Wythe Encyclopedia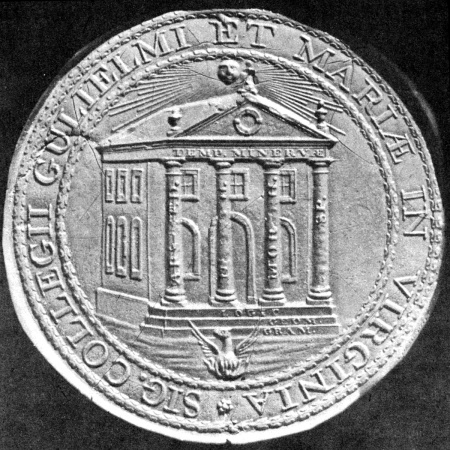 From 1783 through 1929, the official seal of the College of William & Mary was the "temple" seal—sometimes referred to as the second seal—having replaced the original, colonial seal, which had been in use from 1697 but was changed following the American Revolution. The seal was a metal stamp or "matrix," used for authenticating documents by making an impression in melted wax. The design of the temple seal is sometimes credited to Thomas Jefferson, but is generally acknowledged to have been designed by George Wythe.[1]
The temple seal was made in Philadelphia in 1782, cut by the engraver Robert Scot—formerly of Fredericksburg, Virginia—at a cost of £8/15s.[2] It was ordered by the Reverend James Madison, president of the college, and forwarded to Williamsburg by his cousin, (later, President) James Madison, through Richmond, via Wythe.[3]
Description of the seal
The new seal retained the college's motto in the border around the circumference, reading clockwise from the bottom, SIG. COLLEGII GULIELMI ET MARIÆ IN VIRGINIA: Seal of the College of William and Mary in Virginia. The center of the seal is filled by a squarish, two-story building of Greek Revival architecture, with three steps in the podium supporting four columns, and three urn-shaped finials (acroterions) decorating the front pediment. The two sets of windows are arched below and square above, with a single, circular window in the gable. An inscription on the frieze above the arched entrance reads, TEMP. MINERVÆ: the temple of Minerva, Roman goddess of wisdom. The steps are inscribed with (top to bottom), LOGIC, GEOM., and GRAM.: logic, geometry, and grammar. The four pillars read (from left to right): ARS MED., NAT. PH., MOR. PH., and JURISP., for: the medical arts, natural philosophy, moral philosophy, and jurisprudence. Above the building is a sun-disc with a human face, emanating rays of light. At the foot of the steps is a phoenix rising from a bed of flame.
Surviving examples of the temple seal can be found on several existing university documents from the time period, including a 1787 petition from the president and professors of the College to the Virginia Chief Justice, and an honorary Doctorate of Civil Law degree given to St. George Tucker in 1790.[4]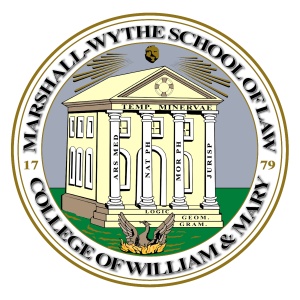 Evidence for Wythe's design
The evidence for George Wythe's hand in designing the temple seal is detailed in Donald M. Sweig's article, "'Vert a Colledge...': A Study of the Coat-of-Arms and Seals of the College of William and Mary in Virginia" (1976). Sweig argues that Wythe had previously designed the Seal of the Commonwealth of Virginia in 1776, and that architecture-loving Jefferson would have found the design of the building crude, at best. The phoenix and classical references in the college seal are indicative of Wythe's influence and sensibilities.
Excerpt from "'Vert a Colledge....," April 1976
Page 149
Page 150