Samuel Hardy
From Wythepedia: The George Wythe Encyclopedia
Samuel Hardy

Member of the State House of Delegates (VA)
In office
1778, 1780-1782
Preceded by
Succeeded by
Member of the Executive Council
In office
June 1781
Preceded by
Succeeded by
Lieutenant Governor of Virginia
In office
May 29, 1782-October 11, 1782
Preceded by
Succeeded by
Member of the Continental Congress
In office
1783-1785
Preceded by
Succeeded by
'
In office
Preceded by
Succeeded by
'
In office
Preceded by
Succeeded by
'
In office
Preceded by
Succeeded by
{{{8thoffice}}}
In office
{{{8thofficedates}}}
Preceded by
{{{8thofficepreceded}}}
Succeeded by
{{{8thofficesucceeded}}}
Personal details
Born
ca. 1758
 
Isle of Wight County, Virginia
Died
October 17, 1785
 
Philadelphia, Pennsylvania
Resting place
Christ Church Burial Ground, Philadelphia, Pennsylvania
Residence(s)
Education
The College of William & Mary
Alma mater
Profession
Lawyer, politician (congressman)
Spouse(s)
Relatives
Known for
Signature
[[File:|left|200px]]
Samuel Hardy was born sometime around the year 1758 in Isle of Wight County, Virginia, the son of Richard Hardy and a descendant of George Hardy, a representative of Virginia in the House of Burgesses from 1642-1652.[1]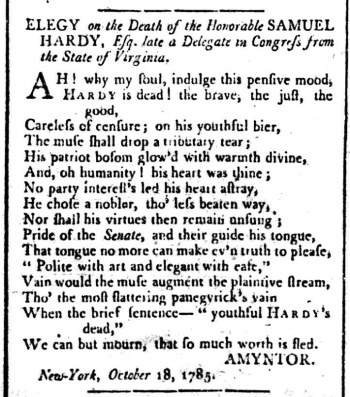 After completing his preparatory studies, Hardy attended the College of William & Mary in Williamsburg, Virginia. While in Williamsburg, Hardy studied law under George Wythe.[2] During his time as a student, Hardy actually served as a member of the State House of Delegates in 1778, and from 1780 to 1782.[3]
After completing his studies and gaining admittance to the bar, Hardy commenced his legal practice and became a well-known lawyer. [4] While practicing law, Hardy also continued his service as a Delegate for the Commonwealth of Virginia, and served on the executive council. From May to October of 1782, he served as the Lieutenant Governor of Virginia. In 1783, around the age of 25, Hardy was elected to represent Virginia to the Confederation Congress in Philadelphia, and later New York City. Hardy died at his home in New York on October 17, 1785.[5] Along with tributes from Congress, an elegy attributed to Alexander Hamilton appeared in local papers.[6]
Shortly after Hardy's death, the Virginia General Assembly named a county in his honor, located in what is now West Virginia.
See also
References