"Remarks on the Climate in North America; With Observations upon Certain Effects of Frost in Mountainous Parts of the Country; Methods Used to Preserve Fruit Trees, by Means of Straw Conductors, Fire, Pavement, &c."
From Wythepedia: The George Wythe Encyclopedia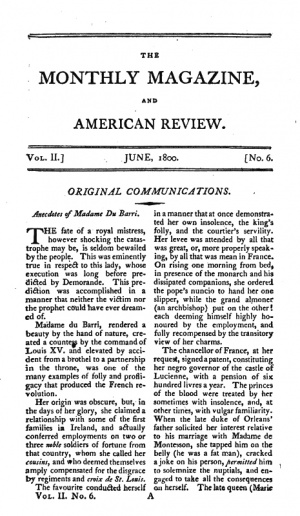 Dated July 27, 1799 and published in 1800 in the Monthly Magazine, and American Review of New York, this article compares the climate of Europe and North America, with comments on efforts to combat frost and boost production of agriculture. The article observes that George Wythe — then Judge of the High Court of Chancery in Richmond, Virginia — was "remarkable for his fine fruits."[1] Wythe and Thomas Jefferson often traded seeds and cuttings of their best vegetables and fruits.[2]
The article is signed as being authored by a "Mr. Tatham." This is most likely Colonel William Tatham (1752-1819), a soldier, lawyer, legislator, merchant, and author.[3] Born in England, he came to America to seek his fortune. Tatham participated the American Revolution and was a military courier during the British invasion of 1780-1781.[4] Tatham was also an acquaintance and correspondent of Jefferson.[5]
Tatham traveled extensively in the mid-Atlantic, living in Virginia, Tennessee, and North Carolina, but also spent time in Cuba and Spain, and back in England. He was a keen observer, and wrote several works on economics and engineering, including The Political Economy of Inland Navigation, Irrigation and Drainage (London: Robert Faulder, 1799), and An Historical and Practical Essay on the Culture and Commerce of Tobacco (London: Vernor and Hood, 1800).[6]
Article excerpt, June, 1800
Page 441
In respect to the radical preservation of trees and plants, I recollect to have observed a casual instance during a hard winter, where a particular tree in a row of the same kind, growth, and condition, was preserved, and shot forth with very superior luxuriance through the mere accident of its having been paved with oyster shells; probably, deposited there by the mimick industry of small children.

Upon this principle the Judge of the High Court of Chancery in Virginia, (George Wythe, Esq.) who is remarkable for his fine fruits, is said to have succeeded admirably in an experiment of planting a young orchard in the usual mode, and securing each tree respectively by passing it through the eye of a grind-stone, and breaking the several stones by the stroke of a sledge hammer, so soon as the maturity of the tree required a greater space for its expansion.

I have frequently observed a practice in the American orchards, of piling brushwood, weeds, straw, or rubbish, round the roots of fruit trees, and think it may generally be considered a useful method; and I have often seen the stumps of trees and other rubbish, set on fire with an intent to preserve the bloom (of peaches more particularly) from a frosty night. I cannot say, however, that I suppose this last method to have more than a partial capacity; nor do I know of any other place than America, where the expense would not exceed the profit.
See also
References
External links