Publii Papinii Statii Sylvarum lib. V. ; Thebaidos lib. XII. ; Achilleidos lib. II.
From Wythepedia: The George Wythe Encyclopedia
by P. Papinius Statius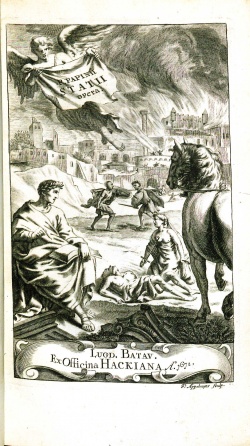 Publius Papinius Statius
was a Roman poet born in Naples who lived from c. 45 to c. 96 CE.
[1]
His father also was a poet, as well as a teacher of literature. Statius was held in high regard, and Romans attended his poetry readings in vast numbers.
[2]
Working with one of the emperor Domitian's favorite poets, Statius had generous exposure in the city. He won Domitian's poetry competition at the Alban Games, but not at the more prestigious Capitoline Games later that year.
[3]
Statius married Claudia, another poet's widow, and had no children of his own.

Statius's Thebaid, published c. 91 CE, is the only Roman epic published as a complete work by its author.[4] It contains twelve books, and took the poet twelve years to complete.[5] In his account of the war between Oedipus' sons over Thebes, Statius critically examines his own style and writing, and draws on many other works to inspire themes of civil war, absolutism, human violence and madness, succession, authority, and familial discord.[6]

The Silvae was a collection of five books, the first four published between 91 and 95CE, and the fifth most likely published after Statius' death in 96CE.[7] The collection contains thirty-two poems, twenty-six of them in the standard post-classical Greek meter of hexameter.[8] Statius wrote these for his patrons, including Domitian, to immortalize specific events in both their and his lives. A simpler, more spontaneous, and less polished work than the Thebaid, the Silvae has greater appeal to casual readers.[9]

The Achilleid is the last book of poems by Statius, written after his retirement to Naples, but unfinished due to his death.[10] It was meant to tell the story of Achilles, though the completion of only the first book and part of the second means that all that is written is Thetis' anxiety for her son's future through Achilles' departure for Troy.[11]
Evidence for Inclusion in Wythe's Library
Listed in the Jefferson Inventory of Wythe's Library as "Statius. varior. 8vo." This was one of the books kept by Thomas Jefferson. He later sold a copy to the Library of Congress in 1815, but it no longer exists to verify the edition or Wythe's prior ownership.[12] Both the Brown Bibliography[13] and George Wythe's Library[14] on LibraryThing include the 1671 Leiden edition based on E. Millicent Sowerby's inclusion of that edition in Catalogue of the Library of Thomas Jefferson. The Wolf Law Library purchased a copy of the same edition.
Description of the Wolf Law Library's copy
Bound in burgundy goatskin with gilt-oulined panelling and floral cornerpieces on the boards; gilt decoration on edges with matching inner gilt rolls. Spine has five raised bands with gilt decoration; author and editor gilt in one compartment with ornate gilt decoration in the rest. Includes inscriptions, "Bound by Lewis, From Mr Beckford's library" and "Edmund Lamb. June 27th 1912, Borden Wood, Libhook, Hants, from (?) 10/6." Purchased from Collectable Books.
Images of the library's copy of this book are available on Flickr. View the record for this book in William & Mary's online catalog.
See also
References
External Links
Read this book in Google Books.