Publii Ovidii Nasonis Metamorphoseon Libri XV
From Wythepedia: The George Wythe Encyclopedia
by Ovid
Publii Ovidii Nasonis Metamorphoseon Libri XV

Title page from Publii Ovidii Nasonis Metamorphoseon Libri XV, George Wythe Collection, Wolf Law Library, College of William & Mary.

Author
Ovid
Editor
Daniel Crispin
Translator
{{{trans}}}
Published
Londini: Impensis S. Ballard, J. & P. Knapton, S. Birt, T. Longman, D. Browne [and 13 others in London]
Date
1751
Edition
In hac editione quinta fere notarum pars expungitur
Language
Latin
Volumes
{{{set}}} volume set
Pages
[8], 475, [173]
Desc.
8vo (21 cm.)
Location
Shelf J-4
 
[[Shelf {{{shelf2}}}]]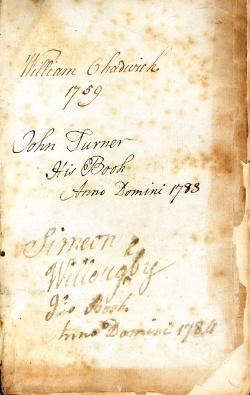 Modern readers are fortunate that the Roman elegiac poet Publius Ovidius Naso (43 B.C.E. - 17/18 C.E.), better known as
Ovid
, wrote of his own life in one of his poems,
Tristia
.
[1]
He received a Roman education due to his family's high social and political status as equestrians.
[2]
As the culmination of his studies, Ovid went on the typical aristocratic "Grand Tour" of Greece.
[3]
Political life was not for him, so after Ovid held minor posts in Rome, he dedicated his life to poetry and became part of Messallian group of poets.
[4]
By 8 CE, Ovid "was the leading poet of Rome" but was suddenly banished by the Emperor Augustus to the city Tomis due to a poem and an error which offended the emperor.
[5]
During this ten-year ban, Ovid kept his Roman property and civic rights, but his books were removed from public libraries in Rome.
[6]
Metamorphoses contains a wide variety of memorable myths and legends, each telling of some type of supernatural transformation, "call[ing] attention to the boundaries between divine and human, animal and inanimate, raising fundamental questions about definition and hierarchy in the universe."[7] Ovid's mastery of elegiac poetry was unsurpassed. "No Roman poet can equal Ovid's impact upon western art and culture. Esp[ecially] remarkable in its appropriations has been the Metamorphoses."[8]
Evidence for Inclusion in Wythe's Library
Listed in the Jefferson Inventory of Wythe's Library as "Ovidii Metamorphoseon. Delph. 8vo." This was one of the books kept by Thomas Jefferson. He sold a copy to the Library of Congress in 1815, but it no longer exists to verify the edition or Wythe's prior ownership.[9] George Wythe's Library[10] on LibraryThing merely indicates "Precise edition unknown." The Brown Bibliography[11] includes the 1751 edition based on E. Millicent Sowerby's inclusion of that edition in Catalogue of the Library of Thomas Jefferson. The Wolf Law Library purchased a copy of the same edition.
Description of the Wolf Law Library's copy
Bound in original calf with gilt compartments to spine. Includes previous owner inscriptions "William Chadwick, 1759," "John Turner, His Book, Anno Domini 1783," and "Simeon Willoughby, His Book, Anno Domini 1784" on the front free endpaper. Purchased from Tony Hutchinson.
Images of the library's copy of this book are available on Flickr. View the record for this book in William & Mary's online catalog.
See also
References
External Links
View the record for this book in Google Books.