Platonis Philosophi Quae Extant Graece
From Wythepedia: The George Wythe Encyclopedia
by Plato
Little is known of Greek philosopher Plato's (429 – 347 B.C.E.) early years, but he was interested in politics in his youth, and studied rhetoric under Dionysius.[1] He became a disciple of Socrates, and most of Plato's works are in the form of a dialogue, many of which feature Socrates questioning various philosophical doctrines.[2] Plato introduced the Western conception of philosophy as a method of thought that probes the boundaries of human senses and understanding of the world.[3]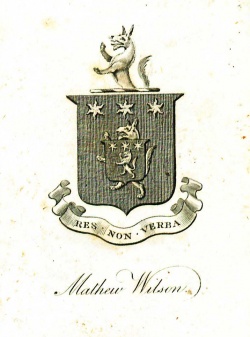 Plato's philosophy centered on the doctrine that there are eternal forms that exist, such as "beauty" or "good," which human senses cannot fully understand but strive to attain.[4] His works do not present a comprehensive system of thought, but instead stimulate discussion and present starting points on how one may question the world.[5] Plato believed that a philosopher should probe why he perceives the world the way he does, and should apply overarching contemplative ideas (his eternal "forms") in the moral actions of man.[6]
Plato developed this moral theory throughout his works. For example, in the Republic he explored how to attain happiness by living virtuously.[7] He continuously criticizes social values and political institutions in works including Protagoras, Gorgias, Euthydemus, proving his work is grounded in the practical sphere of human life as well as concerned with the soul.[8]
Evidence for Inclusion in Wythe's Library
Listed in the Jefferson Inventory of Wythe's Library as "Plato. Gr. Lat. 12.v 8vo." and given by Thomas Jefferson to his grandson Thomas Jefferson Randolph. The Brown Bibliography[9] lists the 1781-1787 edition of Platonis Philosophi based on the existence of that title and edition in Jefferson's library.[10] George Wythe's Library[11] on LibraryThing concurs that Platonis Philosophi was the "probable" title in Wythe's Library, but no specific edition is listed. One possible problem with the identification of the 1781-1787 edition Platonis Philosophi as the title in Jefferson's inventory is the fact that Jefferson lists "12.v." and this edition only has 11 volumes. However, many copies of this edition, including Jefferson's at the Library of Congress, appear to have been accompanied by Dialogorum Platonis Argumenta Exposita et Illustrata, a Diet (Tiedemann: Biponti, 1786) bound as volume 12. The Wolf Law Library followed Brown and purchased a copy of the 1781-1787 edition.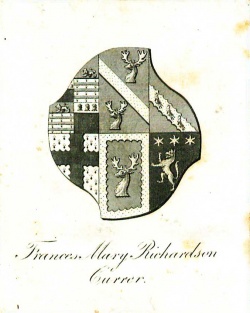 Description of the Wolf Law Library's copy
Bound in mottled calf with gilt lining on boards and gilt decoration to spines. Title labels inset on black morocco and copper engraved title vignettes. Each volume includes the armorial bookplate of Mathew Wilson with the Latin motto "Res non verba" (Actions speak louder than words) on the front pastedown and the armorial bookplate of Frances Mary Richardson Currer on the front free endpaper. Purchased from K Books Ltd.
Images of the library's copy of this book are available on Flickr. View the record for this book in William & Mary's online catalog.
See also
References
External Links