Phædri Aug. Liberti Fabularum Æsopiarum Libri Quinque: Item Fabulæ Quædam ex ms. Veteri à Marquardo Gudio Descriptæ
From Wythepedia: The George Wythe Encyclopedia
by Phaedrus
A Thracian slave who was freed in Rome in the household of Augustus, Gaius Julius Phaedrus (c. 15 – 50 CE) wrote five books containing about one hundred Latin fables in the 30s CE.[1] Though the books are incomplete, an additional thirty fables are attributed to Phaedrus.[2]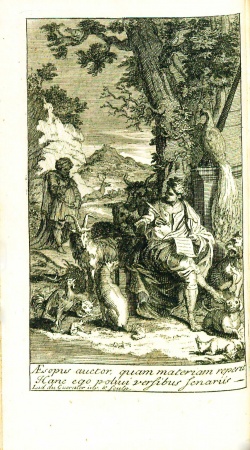 Phaedrus is largely responsible for the increased use of and respect for fables, which had previously been used only in adjunction to other genres. Phaedrus' satire of politicians, writers and other public figures led to serious criticisms of his work, which were followed by his own retorts.[3] Phaedrus noted in his third book's prologue that fables were invented so slaves could speak what could not be said openly.[4] As a freedman, he did not have to worry about incurring the wrath of his master, and openly advised and criticized the injustices of Roman life. Interestingly, Phaedrus coined the expression "adding insult to injury," (iniuriae qui addideris contumeliam).[5]
This work contains the extant portions of Phaedrus' fifth book.
Evidence for Inclusion in Wythe's Library
Listed in the Jefferson Inventory of Wythe's Library as "Phaedrus. 12mo." and given by Thomas Jefferson to his grandson Thomas Jefferson Randolph. The precise edition owned by Wythe is unknown. George Wythe's Library[6] on LibraryThing indicates this without selecting a specific edition. The Brown Bibliography[7] lists the 1713 edition published in London based on one of the copies of Phaedrus Jefferson sold to the Library of Congress.[8] The Wolf Law Library followed Brown's suggestion and purchased the 1713 edition.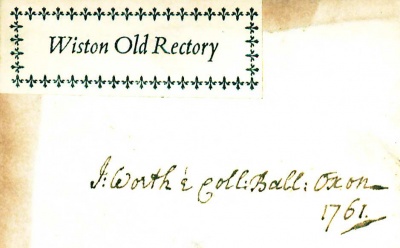 Description of the Wolf Law Library's copy
Bound in contemporary sprinkled calf with spine gilt. Inscribed "J. Worth & Coll. Ball. Oxon, 1761" and includes the bookplate of Wiston Old Rectory, both on the front pastedown. Purchased from Charles Cox Rare Books.
Images of the library's copy of this book are available on Flickr. View the record for this book in William & Mary's online catalog.
See also
References