Officium Vicecomitum: The Office and Avthoritie of Sherifs. Written for the Better Incouragement of the Gentrie (Upon Whom the Burthen of This Office Lyeth) to Keepe Their Continuall Care of the businesse, and Eye Ouer Their Officers, They May the Better Discharge Their Dutie to God, Their Prince, and Countrey, in the Execution of This Their Office
From Wythepedia: The George Wythe Encyclopedia
by Michael Dalton
Officium Vicecomitum

Title page from Officium Vicecomitum, George Wythe Collection, Wolf Law Library, College of William & Mary.

Author
Michael Dalton
Editor
{{{editor}}}
Translator
{{{trans}}}
Published
London: Printed for the Companie of Stationers
Date
1623
Edition
First
Language
English
Volumes
{{{set}}} volume set
Pages
3 pages, 194 leaves, [10] pages
Desc.
Folio (29 cm.)
Location
[[Shelf {{{shelf}}}]]
 
[[Shelf {{{shelf2}}}]]

Michael Dalton
(1564-1644), an English barrister and legal writer, was born in Linton, Cambridgeshire in 1564.
[1]
He was accepted to
Lincoln's Inn
in 1671 and called to the bar in 1589. In 1604, he became deputy steward of the University of Cambridge and in 1618, published
The Countrey Justice
, a treatise for local magistrates which became quite popular.
[2]
Dalton remains "historically significant" for this contribution. He followed that publication with another legal treatise in 1623,
Vicecomitum, or, The Office and Authoritie of Sheriffs
, which also proved successful, appearing in an abridged version in 1628 and multiple reprintings as late as 1700.
[3]
In fact, "in spite of a growing number of rivals, it continued to be a standard authority till the beginning of the eighteenth century."
[4]
Evidence for Inclusion in Wythe's Library
Listed in the Jefferson Inventory of Wythe's Library as Dalton's office of Sheriff. fol and given by Thomas Jefferson to Dabney Carr. We do not know which edition Wythe owned. The Brown Bibliography[5] includes the 1700 edition based on the existence of this edition in Thomas Jefferson's library. George Wythe's Library[6] on LibraryThing indicates "Precise edition unknown. Folio editions were published at London in 1670, 1682, and 1700." The 1623 edition owned by The Wolf Law Library is also a folio edition.[7]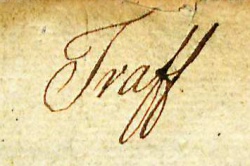 Description of the Wolf Law Library's copy
Bound in contemporary full calf with banded spine. Includes inscription "Traff" on front free endpaper. Purchased from the Lawbook Exchange.
View the record for this book in William & Mary's online catalog.
References