The Oceana of James Harrington, and his Other Works: Som Wherof are now First Publish'd from His Own Manuscripts
From Wythepedia: The George Wythe Encyclopedia
by James Harrington
The Oceana of James Harrington

Title page from The Oceana of James Harrington, George Wythe Collection, Wolf Law Library, College of William & Mary.

Author
James Harrington
Editor
{{{editor}}}
Translator
{{{trans}}}
Published
London: Printed [by J. Darby?] and are to be sold by the booksellers of London and Westminster
Date
1700
Edition
First
Language
English
Volumes
{{{set}}} volume set
Pages
xliv, 546
Desc.
Folio (32 cm.)
Location
Shelf B-5
 
[[Shelf {{{shelf2}}}]]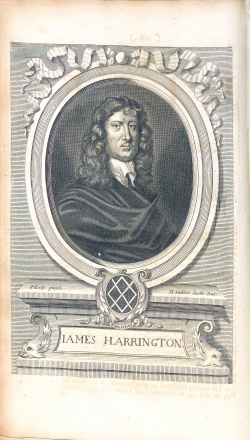 James Harrington
(1611-1677) was a political theorist in the seventeenth century. Although he left
Trinity College
in Oxford without a degree, Harrington was an accomplished private scholar.
[1]
Commonwealth of Oceana
, written in 1656 and included in this compilation, presented an image of an idealized world in which the British gentry social class had absolute power.
[2]
Harrington's portrayal was powerful; he notably attacked
Hobbes
for what he saw as an ineffective distinction between authority and power.
[3]
Harrington was a wealthy man with much to gain from social connections, but he still argued for what he called a return to "ancient prudence."
[4]
By this, Harrington meant that the government should not be composed of men, but of legal doctrines and rules.
[5]
His theories on equality were reflected in both the American and French revolutions.
[6]

The Oceana of James Harrington, and His Other Works, first edited as a collection in 1700 by John Toland, includes The Grounds and Reasons of Monarchy Consider'd, The Commonwealth of Oceana, The Prerogative of Popular Government, The Art of Lawgiving, and "Six political tracts written on several occasions," as well as Toland's "The Life of James Harrington."
Evidence for Inclusion in Wythe's Library
A version of Harrington's Oceana is included in both Dean's Memo[7] and Brown's Bibliography[8] based on a reference in William Clarkin's biography of Wythe. In discussing Thomas Jefferson's education under Wythe, Clarkin states "[w]e do know that Jefferson studied ... Harrington's Oceana," but Clarkin provides no source of corroborating evidence.[9] Brown suggests the first (1656) edition, Commonwealth of Oceana based on the copy Jefferson sold to the Library of Congress.[10] The Wolf Law Library followed the recommendation of Dean's Memo and purchased the first (1700) edition of collected works, The Oceana of James Harrington, and his Other Works.
Description of the Wolf Law Library's copy
Bound in contemporary blind calf, reback in period style. Purchased from Rulon-Miller Books.
Images of the library's copy of this book are available on Flickr. View the record for this book in William & Mary's online catalog.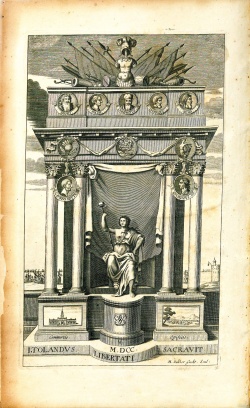 See also
References
External Links
Read this book in Google Books.