The Miscellaneous Works, in Verse and Prose, of the Right Honorable Joseph Addison, Esq.: With Some Account of the Life and Writings of the Author by Mr. Tickell
From Wythepedia: The George Wythe Encyclopedia
by Joseph Addison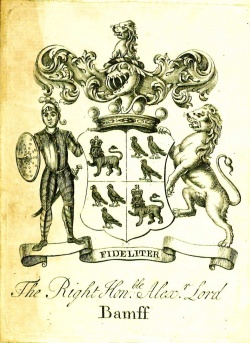 Joseph Addison (1672-1719) was a renowned contemporary writer and politician in Great Britain.[1] He is best known for his satirical social criticisms and contributions to The Tatler and The Spectator, which he founded with his friend Richard Steele. Addison's most famous fictional work is Cato, a Tragedy, written in 1712. He is also known for his poetry, influenced by his extensive classical education and his time spent abroad from 1699-1704.[2]

Addison had a vibrant political career in the Whig party. He was involved in politics in London and Ireland, from 1704-1710; when he returned to London, he focused on his writing. After the death of Queen Anne in 1714, Addison reached his highest political office, the secretary of state for the southern department.

The compilation published in 1746, Miscellaneous Works, in Verse and Prose, includes some of Addison's well-known poetry, essays, and fiction and showcases his extensive involvement in the literary scene of London.[3]
Evidence for Inclusion in Wythe's Library
Listed in the Jefferson Inventory of Wythe's Library as "Addison's works. 1st. v. 12mo." and given by Thomas Jefferson to his grandson Thomas Jefferson Randolph. The precise edition owned by Wythe is unknown. George Wythe's Library[4] on LibraryThing indicates this, adding "Several duodecimo editions of Addison's works were published in three or four volumes, the first at Dublin in 1722-23." The Brown Bibliography[5] lists the 1746 edition published in London based on the copy Jefferson sold to the Library of Congress.[6] The Wolf Law Library followed Brown's suggestion and purchased the 1746 edition.
Description of the Wolf Law Library's copy
Bound in leather with gilt lettering and spine decoration. Contains the armorial bookplate of the Right Honourable Alexander, Lord Bamff on the front pastedown of each volume. Set includes Addison's Remarks on Several Parts of Italy, &c. in the Years 1701-3 (London: Printed for J. and R. Tonson and S. Draper, 1745) as volume four. Purchased from Rooke Books.
Images of the library's copy of this book are available on Flickr. View the record for this book in William & Mary's online catalog.
See also
References