Jus Feudale
From Wythepedia: The George Wythe Encyclopedia
Jus Feudale: Tribus Libris Comprehensum: Quibus Non Solùm Consuetudines Feudales, & Praediorum Jura, Quae in Scotia, Anglia & Plerisque Galliae Locis Obtinent, Continentur; Sed Universum Jus Scoticum, & Omnes Ferè Materiae Juris Clarè & Dilucidè Exponuntur, & Ad Fontes Juris Feudalis & Civilis Singula Reducuntur
by Sir Thomas Craig
Jus Feudale

Title page from Jus Feudale, George Wythe Collection, Wolf Law Library, College of William & Mary.

Author
Sir Thomas Craig
Editor
{{{editor}}}
Translator
{{{trans}}}
Published
Edinburgi: Apud Thos. & Walt. Ruddimannos
Date
1732
Edition
Third
Language
Latin
Volumes
{{{set}}} volume set
Pages
[2], xxii, 524, 52
Desc.
Folio (31 cm.)
Location
[[Shelf {{{shelf}}}]]
 
[[Shelf {{{shelf2}}}]]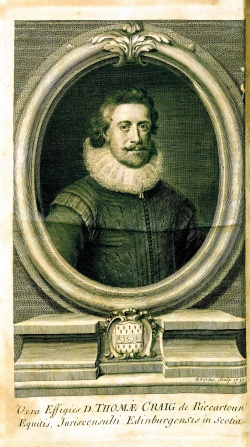 Thomas Craig
(c. 1538 – February 26, 1608) was a Scottish lawyer, jurist, and poet. He studied at
St. Leonard's College
in St. Andrews and at the
University of Paris
. In 1563, Craig was admitted as an advocate in the courts of Scotland.
[1]
"[He] probably started work on Jus feudale in the late 1590s and there is considerable internal evidence to suggest that much of it was written in 1600. There was at least one revision, probably in 1606. The culmination of a lifetime's professional involvement in Scots law, it was enriched by frequent allusions to practice. Written in admirably clear Latin (which the poor English translation represents rather miserably), it is a typical humanistic work in its classical quotations and references and historical and philological discussions. That it originated in a patriotic concern for Scots law is revealed by Craig's stated Ciceronian aim of reducing that law to an ordered science, thereby making it easier for students to learn. He achieves this admirably, writing an accessible, learned, and well-structured work, in which he stresses the feudal origins of much Scots law (and English law too), and from that basis explains and expounds his subject in a logical fashion. He ultimately validates Scots law and its practices in the law of nature and nations in a way that to some extent anticipates Grotius...Craig's systematic account of feudal land law and its principles influenced numerous later Scottish writers...but also had an impact on English legal writers and on English understanding of the history of the common law."[2]
Evidence for Inclusion in Wythe's Library
Listed in the Jefferson Inventory of Wythe's Library as Cragii Jus feudale.fol. This was one of the books kept by Thomas Jefferson and later sold to the Library of Congress in 1815. The Brown Bibliography[3] includes the 1732 edition, based on Millicent Sowerby's entry in Catalogue of the Library of Thomas Jefferson,[4] while George Wythe's Library[5] on LibraryThing indicates "precise edition unknown; folio editions were published in 1655 and 1732." The Wolf Law Library moved a copy of the 1732 Edinburgh edition from another rare books collection to the George Wythe Collection.
Description of the Wolf Law Library's copy
Recently rebound in period style. Spine features four bands with gilt rules with green label. Title page punched "Biddle Library Univ. Penn." Purchased through the generosity of Daniel W. Baran and Lena Stratton Baran, Class of 1936.
View this book in William & Mary's online catalog.
References