John Wickham
From Wythepedia: The George Wythe Encyclopedia
John Wickham

[[File:|center|border|300px]]

'
In office
Preceded by
Succeeded by
'
In office
Preceded by
Succeeded by
'
In office
Preceded by
Succeeded by
'
In office
Preceded by
Succeeded by
'
In office
Preceded by
Succeeded by
'
In office
Preceded by
Succeeded by
'
In office
Preceded by
Succeeded by
{{{8thoffice}}}
In office
{{{8thofficedates}}}
Preceded by
{{{8thofficepreceded}}}
Succeeded by
{{{8thofficesucceeded}}}
Personal details
Born
June 6, 1763
 
Cutchogue, Eastern Long Island, New York
Died
January 22, 1839
 
Resting place
Shockoe Hill Cemetery, Richmond, Virginia
Residence(s)
Education
The College of William & Mary
Alma mater
Profession
Lawyer
Spouse(s)
Mary Smith Fanning
Elizabeth Seldon McClurg
Relatives
William Fanning Wickham (son)
Edmund Fanning Wickham (son)
George Wickham (son)
Williams Carter Wickham (grandson)
Charlotte Wickham (granddaughter), wife of William Henry Lee
Known for
Trial of Aaron Burr
Signature
[[File:|left|200px]]
John Wickham was born on June 6, 1763 to John Wickham, Sr. — a clergyman in the Church of England and "a fierce loyalist" — and Hannah Fanning, the first of the senior Wickham's three wives. Wickham's extended family was similarly Loyalist, with one cousin, Samuel Wickham, moving back to England, and another, John Clements Wickham, becoming a prominent figure in the Royal Navy.[1]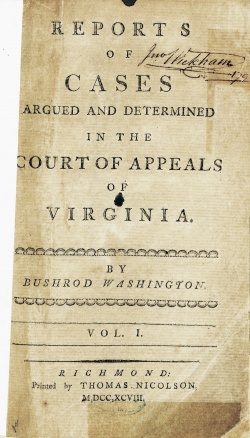 John followed in his family's footsteps and also became a Loyalist supporter. He studied at the Military School in Arras, France, and joined the Queen's Rangers as an Ensign (later he became a Captain).[2] During the Revolutionary War, Wickham's father was such a strong advocate for the Loyalist cause that "he became obnoxious to the constituted authorities, and was put on his parole, and confined to the limits of Williamsburg, Virginia." Consequently, Wickham Sr. decided that John should leave the country. But this plan did not go as smoothly as expected, and it left a great impression on young Wickham:
After the War, Wickham attended school at the College of William & Mary and studied law under George Wythe. He was admitted to the bar in 1786 and set up a lucrative law practice in Richmond, Virginia. Despite his affiliations during the War, Wickham was one of the few Loyalists to obtain prominence in post-war America.[4] Wickham quickly became a well-known, respected, and wealthy attorney in Richmond. His practice's most profitable cases were assisting British merchants in collecting debts from American businessmen.[5]
Wickham became close friends with John Marshall, and even took over Marshall's practice when Marshall was out of town for his government assignments.[6] The two friends lived close by each other and often hosted high society dinner parties. Among their "club" were such Richmond social elites as Benjamin Watkins Leigh, Chapman Johnson, and Daniel Call.[7] Wickham is most famous for his defense of Vice President Aaron Burr in the Aaron Burr Trial where Burr was tried for treason. Wickham argued that "under the Constitution no person could be guilty of levying war unless personally present at the commission of the overt act."[8] Chief Justice Marshall incorporated much of this defense and its reasoning in his landmark opinion that narrowly defined treason under the Consitution.[9]
Wickham never pursued a political career despite his qualifications and abilities. "[A] former Loyalist, a southern Federalist, and a critic of Jefferson's political and agrarian skills," Wickham was content in his legal profession.[10] He had a passion for horse breeding, and his most successful horse, Boston, is considered to be "America's first great race horse." Wickham also owned two plantations outside of Richmond, and amassed considerable wealth through his legal practice and his marriages. [11] He first married Mary Smith Fanning and had two children, William Fanning (b. November 23, 1793) and Edmund Fanning Wickham (b. July 30, 1796). [12] After Mary died in 1799, Wickham married Elizabeth Seldon McClurg and fathered another son, George (b. 1817).[13]
Wickham was described by his contemporaries as "the acknowledged leader of the glittering Virginia bar" and "the ablest lawyer then practising at the Richmond bar. He had learning, logic, wit, sarcasm, eloquence, a fine presence, and a persuasive manner. In single endowments he was excelled; but no other man possessed such a variety of talents and resouces as Wickham."[14]
Wickham's grand neoclassical home, "Wickham House", is now a National Historic Landmark and museum.[15]
See also
References
External links