History of Hampton and Elizabeth City County Virginia
From Wythepedia: The George Wythe Encyclopedia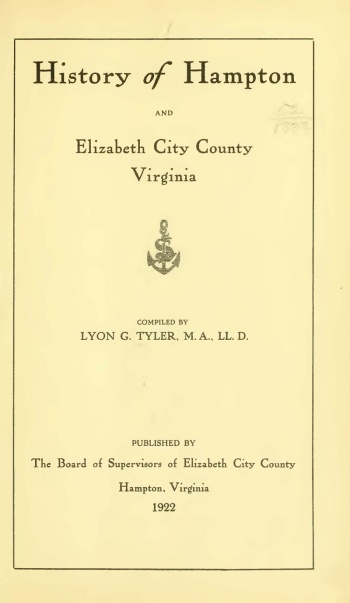 Lyon Gardiner Tyler, Sr. (1853 – 1935) was an American historian and educator, the 17th president of the College of William & Mary, and founder of William and Mary College Quarterly Historical Magazine. Tyler's History of Hampton and Elizabeth City County (1922) traces the settlement of the Kecoughtan region at the mouth of the James River in Virginia, from its discovery by Christopher Newport in 1607, through the American Civil War.[1]
Tyler spends a page on George Wythe's ancestors, the Keiths and Walkers, and later lists the Wythe family's appointments to the House of Burgesses:
Excerpt, 1922
Page thirty
From Founding of Hampton, 1680
In 1704, Hampton received a visit from the celebrated preacher, George Keith, who was, it is believed, a grandson of the former minister of that name for Elizabeth City County. He was a native of Aberdeen, Scotland, a Master of Arts, and had held high position among the Quakers of Pennsylvania. Factional strife broke out among them, because of his extreme views on the doctrine of Quaker passivity, and, being finally deserted by his friends, he broke with his faith and returned to the church of England. In 1702, he was sent to America as a missionary from "The Society for the Propagation of the Gospel." After spending two years in the northern colonies, where he converted many Quakers, he visited Hampton with another minister, Mr. Talbot. There is this entry in his Journal: "Mr. Talbot preached at Kirketan; we stayed there about ten days at my daughter's house at Kirketan, by James River; she is fully come off from the Quakers, and is a zealous member of the church of England, and brings up her children, so many of them as are capable through age, in the Christian religion, praised be God for it." The daughter referred to in this extract was Anne Keith, wife of George Walker, the pilot for James River, who lived on the "Strawberry Bank" near Mill Creek. She was grandmother of the celebrated Jurist and Statesman, George Wythe.

In 1705, Hampton had a visit from another prominent Pennsylvania Quaker, Thomas Story, famous for his erudition and ability as a lawyer. In his Journal may be read the following item: "On the 29th (April) we went to Kicquotan, where we had a meeting at our friend, George Walker's house, to which came Col. Brown, one of the provincial council and several commanders of ships and others of note, who were generally well satisfied with the meeting. George Walker's wife is one of George Keith's daughters and follows him in his apostacy and enmity."

Domestic difficulties arose between George Walker and his wife, and in 1708 she appealed to the Council of State, complaining that "George Walker, her husband, violently restrained her and her children from going to church to attend the worship of God according to the established religion." After hearing both sides, the Council ordered:
Page thirty-one
"That she, the said Anne, ought to enjoy the free exercise of her religion, and that her husband ought not to restrain her from going to church; and as to that part of the petition relating to the children, it not appearing of what age these children are, nor how far they are capable of choosing a religion for themselves, this board do not think proper to determine anything in that matter at this time." In this case the Quaker, whose sect preached freedom of religion and the government, which usually restricted it, seemed to change sides.
Page thirty-eight
List of the Burgesses from 1700-1776

The following is a partial list of the members of the House of Burgesses from Hampton and Elizabeth City County from 1702 to 1776; 1702, William Wilson, William Armistead; 1710-1712, Nicholas Curie, William Armistead; 1714, William Armistead, Robert Armistead; 1718, Henry Jenkins, Thomas Wythe; 1720-1722, James Rickets, Anthony Armistead; 1723, James Rickets, Thomas Wythe; 1726, Robert Armistead, Thomas Wythe; 1736, 1738, 1740, 1742, 1745, 1747, 1748, 1749, 1752, 1753, 1754, 1755, 1756, 1757, 1758, William Westwood, Merritt Sweeney; 1758-1761, William Wager, John Tabb; 1761-1765, George Wythe, William Wager; 1765, 1766, 1768, 1769, George Wythe, Wilson Miles Cary; 1769-1771, James Wallace, Wilson Miles Cary; 1772-1774, 1775-1776, Henry King, Worlich Westwood.
See also
References
↑ Lyon G. Tyler, comp., History of Hampton and Elizabeth City County Virginia (Hampton, VA: Board of Supervisors of Elizabeth City County, 1922), 30-31, 38.
External links