Eirenarcha
From Wythepedia: The George Wythe Encyclopedia
Eirenarcha, or, Of the Office of the Iustices of Peace: in Foure Bookes
by William Lambarde
Eirenarcha

Title page from Eirenarcha, George Wythe Collection, Wolf Law Library, College of William & Mary.

Author
William Lambarde
Editor
{{{editor}}}
Translator
{{{trans}}}
Published
F. At London: Printed by Thomas Wight, and Bonham Nortan
Date
1599
Edition
Seventh
Language
English
Volumes
{{{set}}} volume set
Pages
[2], 606 (i.e. 614), [86]
Desc.
16 mo (16 cm.)
Location
[[Shelf {{{shelf}}}]]
 
[[Shelf {{{shelf2}}}]]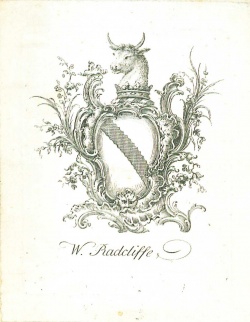 William Lambarde (1536-1601) was an antiquarian and lawyer whose writings were marked by his strong Protestantism.[1] He had a devotion to both scholarship and county administration—particularly following his call to the bar in 1567. Lambarde's first experience with county administration came with his appointment as commissioner of sewers for Kent the following year. He spent the next years of his life largely focused on surveying county histories and building his own estates. In 1579, Lambarde was assigned to the county commission of the peace, and became justice of the quorum about five years later.[2] Lambarde possessed an eloquent, yet plain, writing style—the government often turned to him for drafting or amending parliamentary bills, and appointed him to a committee of lawyers who identified unnecessary or defective statutes.[3] Throughout his life, Lambarde wrote many novel and influential texts, including Archaionomia (1568), a paraphrase of Anglo-Saxon laws; Perambulation of Kent: Containing the Description, Hystorie and Customs of that Shyre (1576), the earliest county history that included a survey of Kent's climate, economy, religion, and general society; and Eirenarcha, or, The Office of the Justices of Peace (1582).[4]

Eirenarcha was first published in 1581, a short time after Lambarde was appointed a Commissioner of the Peace.[5] In part, Lambarde wrote it for personal reasons: to fulfill the desire to study the history and development of positions he held,[6] and to serve as an aid in fulfilling and understanding his duties as Commissioner of the Peace.[7] Beyond those more personal purposes, the treatise became widely popular, serving as an updated, useful guide for justices of the peace in both England and Wales—a particularly important development considering the previous "manual" had been published more than 40 years prior to Eirenarcha. However, Lambarde did not seek merely to record the practices of justices of the peace as they were. Ever the progressive legal analyst, Lambarde expanded his scope to propose new rules, regulations, and practices to be observed by all justices of the peace. In fact, in an effort to see legal defects addressed, Lambarde went so far as to dedicate the Eirenarcha to the Lord Chancellor in the hope that he would advance the roles of justices of the peace in accordance with Lambarde's suggestions.[8] Ultimately, the work saw twelve reprintings prior to 1620, and for long after remained the standard authority on justices of the peace.[9]

Evidence for Inclusion in Wythe's Library
Wythe ordered "Lamb eirenarcha" from John Norton & Sons in a letter dated May 29, 1772. Records indicate the order was fulfilled.[10] All four of the Wythe Collection sources (Goodwin's pamphlet[11], Dean's Memo[12], Brown's Bibliography[13] and George Wythe's Library[14] on LibraryThing) refer to Wythe's letter. Goodwin did not identify a specific work or edition. Dean lists the first edition (1581), noting "other editions to 1619." Brown includes the seventh edition (1599) based on a copy Thomas Jefferson sold to the Library of Congress in 1815.[15] LibraryThing notes "precise edition unknown". The Wolf Law Library followed Brown's recommendation and moved a copy the 1599 seventh edition from an existing rare book collection to the George Wythe Collection.
Description of the Wolf Law Library's copy
Bound in contemporary full calf with recent blind calf reback; red leather label with binder's title "Lombard's Eirenarcha"; text trimmed cutting into running title. Includes the bookplate of W. Radcliffe on the front pastedown. Purchased through the generosity of Daniel W. Baran and Lena Stratton Baran, Class of 1936.

View this book in William & Mary's online catalog.
References