The History and Adventures of the Renowned Don Quixote
From Wythepedia: The George Wythe Encyclopedia
by Miguel de Cervantes Saavedra
Don Quixote

Title page from Don Quixote, volume one, George Wythe Collection, Wolf Law Library, College of William & Mary.

Author
Miguel de Cervantes Saavedra
Editor
{{{editor}}}
Translator
Tobias Smollett
Published
London: Printed for F. and C. Rivington, T. Longman, B. Law, G.G.J. and J. Robinson, J. Johnson [and 12 others in London]
Date
1792
Edition
Sixth
Language
English
Volumes
4 volume set
Pages
{{{pages}}}
Desc.
12mo (17 cm.)
Location
Shelf L-4
 
[[Shelf {{{shelf2}}}]]
Miguel de Cervantes Saavedra (1547 – 1616) was a Spanish writer most famous for his novel Don Quixote.[1] Cervantes traveled to Italy as a young man, serving as a chamberlain and a solder. In 1571 he was shot three times in a battle with the Turks on the Mediterranean. Three years later he attempted to return to Spain, but was captured by Barbary pirates and sold into slavery in Algiers. He remained a captive until 1580, when his family was able to raise his ransom. This period inspired some episodes in Don Quixote and Cervantes's later plays.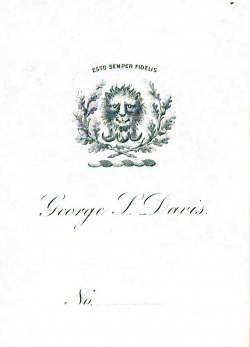 Cervantes began to publish his writings in 1585 with his pastoral romance La Galatea, which was well received in Spain. Don Quixote, credited as the first modern novel, was immediately successful across Europe when first published in 1605. Don Quixote is a man who believes he is a Romantic knight errant. To fulfill this role, he embarks on a quest for adventure that leads to countless comical encounters.[2] A number of false sequels to Don Quixote were published in the following years, but Cervantes published the second part in 1615.[3] This sequel further plays with the dichotomy of reality and Don Quixote's idealized fantasy, as Don Quixote encounters characters who had read the first part of the novel and play along with Don Quixote's fictions.[4]
The History and Adventures of the Renowned Don Quixote, a translation by Tobias Smollett, is the one of the finest English translations of the novel.[5] Smollet's translation encompasses elements of earlier English translations and focuses on readability, translating Cervantes' prevalent wordplay and nuanced phrasing to retain his comic spirit.[6]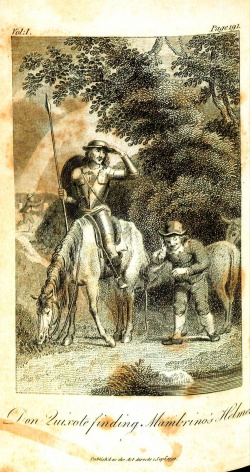 Evidence for Inclusion in Wythe's Library
Wythe references Don Quixote in his decision for the case of Aylett v. Aylett: "Of the reports more in proportion might be spared than the barber and curate saved from Don Quixote's library."[7] We do not know that he definitely owned a copy of Cervantes' masterpiece, nor do we know the language of the proposed Wythe copy. Wythe read multiple languages including French and Italian. He may have read Spanish. The Brown Bibliography[8] lists the French translation, Histoire de l'Admirable Don Quichotte de la Mancha: Traduite de l'Espangnol de Michel de Cervantes, published in Paris in 1754. Because we do not know which edition Wythe may have owned nor in what language, the Wolf Law Library purchased a copy of the English translation published in 1792.
Description of the Wolf Law Library's copy
Bound in nineteenth century half-calf over marbled boards. Each volume includes the bookplate of George L. Davis with the Latin motto "Esto semper fidelis" (Be always faithful) on the front pastedown. Set includes Festivous Notes on the History and Adventures of the Renowned Don Quixote by Edmund Gayton (London: Printed for F. Newbery ... [and 5 others], 1771, 2nd ed.) bound as volume five. Purchased from Strand Book Store.
Images of the library's copy of this book are available on Flickr. View the record for this book in William & Mary's online catalog.
See also
References
External Links