An Apology for the True Christian Divinity
From Wythepedia: The George Wythe Encyclopedia
An Apology for the True Christian Divinity: Being an Explanation and Vindication of the Principles and Doctrines of the People Called Quakers
by Robert Barclay
An Apology for the True Christian Divinity

Title page from An Apology for the True Christian Divinity, George Wythe Collection, Wolf Law Library, College of William & Mary.

Author
Robert Barclay
Editor
{{{editor}}}
Translator
{{{trans}}}
Published
Birmingham: Printed by John Baskerville
Date
1765
Edition
Eighth edition in English
Language
English
Volumes
{{{set}}} volume set
Pages
[12], [II]-XIII, [2], 504, [16] pages
Desc.
{{{desc}}}
Location
[[Shelf {{{shelf}}}]]
 
[[Shelf {{{shelf2}}}]]
Robert Barclay (1648-1690), an early convert to Quakerism,[1] spent most of his life's work spreading and defending those beliefs. His work did not come without a price—he was imprisoned numerous times.[2] His An Apology for the True Christian Divinity: Being an Explanation and Vindication of the Principles and Doctrines of the People called Quakers is the definitive statement and defense of Quakerism.[3] Barclay's theological background allowed him to articulate and defend it in terms that non-Quakers could understand.[4] Barclay first wrote and published Apology in Latin in 1676; he later translated and republished it in English in 1678.[5] Apology has been described as "one of the most impressive theological writings of the [seventeenth] century ... It is impressive in style; grave, logical, and often marked by the eloquence of lofty moral convictions."[6] Beyond this significant contribution to Quakerism, Barclay was also the Governor of East Jersey, now part of the State of New Jersey, from 1682 to 1688.[7]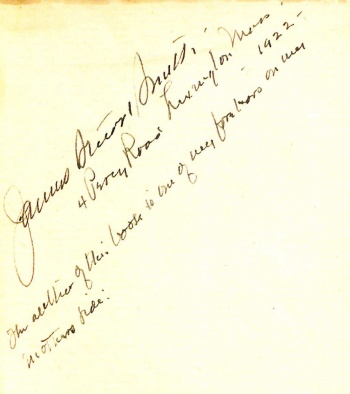 Evidence for Inclusion in Wythe's Library
Thomas Jefferson sold the Library of Congress a copy of the 1765 (8th English) edition of this title. The Library still owns this copy which contains "numerous corrections in ink ... [which] appear to be in the handwriting of George Wythe."[8] Three of the Wythe Collection sources (Dean's Memo,[9], Brown's Bibliography[10] and George Wythe's Library[11] on LibraryThing) list the title based on Millicent Sowerby's attribution of the corrections to Wythe. Barclay's Apology is not listed in the Jefferson Inventory of Wythe's Library. Perhaps this was an oversight on Jefferson's part, or the title appeared on a lost or damaged page.
Description of the Wolf Law Library's copy
Bound in contemporary calf and very neatly re-backed in matching leather with gilt-decorated spine. Front pastedown includes the inscription "James Dricorl Druis (?), 4 Percy Road Lexington, Mass., - 1922 -, The author of this book is one of my forebears on my mother's side." Purchased from Argosy Book Store.

See this book in William & Mary's online catalog.
References
External Links
Read this book in Google Books.