Alexander v. Morris
From Wythepedia: The George Wythe Encyclopedia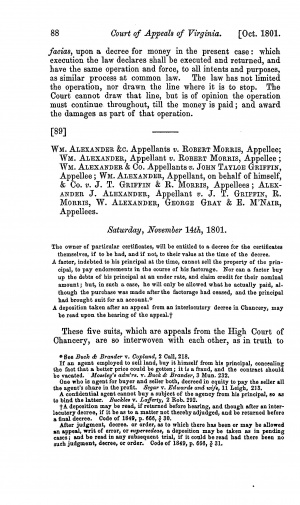 Alexander v. Morris, 7 Va. 89, 3 Call 88 (1801),[1] was a case involving a contract dispute over the shipment of tobacco.
Background
In November 1783, William Alexander and his son-in-law, Jonathan Williams, agreed to work for the Farmers General of France. Alexander moved to Virginia to supply Farmers General with tobacco, and Williams settled in France to receive the shipments. In March 1784, Alexander asked Robert Morris to be his shipping partner. According to the agreement, Morris shared one third of the company's gains and losses, but did not receive additional funds for costs incurred or services provided outside of business expenses. In 1786, Morris entered an optional contract with Framers General for an additional shipment of tobacco. Although Morris used his personal funds to send the additional shipment, the terms of his contract entitled Alexander to a share in the profits of the shipment, but not the expenses. After fulfilling the optional contract, Morris found himself with bad credit and a heap of debt, due in part to paying Alexander his share in the shipment. Morris sued Alexander in the High Court of Chancery to compel Alexander to pay the balance of his debt plus military certificates Alexander obtained with Morris's profits. Morris argued that it was inequitable for him to go into debt for the shipment while Alexander made a considerable sum of money.
The Court's Decision
Chancellor Wythe rejected the claim that Morris should be entitled to the military certificates, but ultimately declared in Morris's favor. The Court of Appeals affirmed.
See also
References
↑ Daniel Call, Reports of Cases Argued and Adjudged in the Court of Appeals of Virginia, 3rd ed., ed. Lucian Minor (Richmond: A. Morris, 1854), 3:89. George Wythe owned the 1st edition of this set.