Yerby v. Yerby
From Wythepedia: The George Wythe Encyclopedia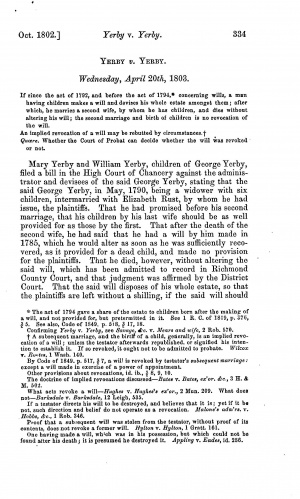 In Yerby v. Yerby, 7 Va. (3 Call) 344 (1803),[1] the Court determined whether a statute enabled two children from a man's second marriage to revoke a will he wrote in his first.
Background
In May 1790, George Yerby, a widower with six children, married Elizabeth Rust. During their marriage, the Yerbys had two children, William and Mary. When Elizabeth died, George became very sick and promised to include William and Mary in his will once his health recovered. However, it never did. George died leaving William and Mary penniless. The siblings brought this case in the Court of Chancery to obtain equity from a legislative statute. The statute stated that testators whose wills did not include any children or provide for children born after their death would be void. The statute then called for the estate to be split equally between each child. The case was first heard in a lower level court. The lower court found no grounds to adjust the will and give William and Mary relief.
The Court's Decision
When Chancellor Wythe heard the case, he dismissed it for lack of jurisdiction. The siblings appealed that decision to the Court of Appeals, who affirmed.
See also
References
↑ Daniel Call, Reports of Cases Argued and Adjudged in the Court of Appeals of Virginia, ed. by Lucian Minor, 3rd ed. (Richmond: A. Morris, 1854), 3:344. George Wythe owned the first edition of this set.