Wythe to Thomas Burke, 9 August 1775
From Wythepedia: The George Wythe Encyclopedia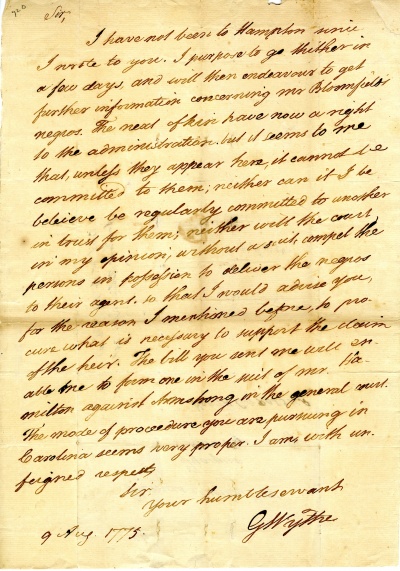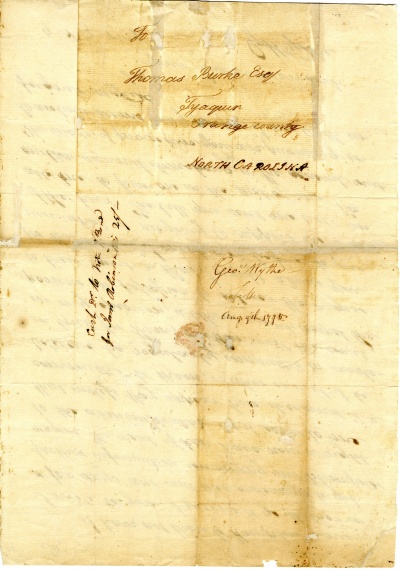 Letter from George Wythe to Thomas Burke, an Irishman who was later third Governor of North Carolina.[1] The letter concerns the slaves owned by one Mr. Bloomfield. This letter is cited by Hemphill, in his dissertation titled "George Wythe the Colonial Briton." It was reproduced in 1894 in a catalogue of autographs and portraits from the collection of Charles Colcock Jones.[2]
Letter text, 9 August 1775
Page 1
Sir,

I have not been to Hampton since I wrote to you. I purpose to go thither in a few days, and will then endeavour to get further information concerning Mr Bloomfield's negros. The next of kin have now a right to the administration. but it seems to me that, unless they appear here, it cannot be committed to them; neither can it I be [sic] beleive [sic] be regularly committed to another in trust for them; neither will the court, in my opinion, without a suit, compel the persons in possession to deliver the negros [sic] to their agent. so that I would advise you, for the reason you mentioned before, to procure what is necessary to support the claim of the heir. The bill you sent me will enable me to form one in the suit of mr. Hamilton against Armstrong in the general court. The mode of procedure [sic] you are pursuing in Carolina seems very proper. I am, with unfeigned respect,

Sir,

Your humble servant

G Wythe

9 Aug. 1775.
Page 2
To

Thomas Burke Esq

Tyaquin

Orange County

NORTH CAROLINA

Geo.e Wythe —

Letter

Aug. 9.th 1775.

Cash D.r to Note of Bond

for Terms of Robinson Note 25/-
References
↑ "George Wythe to Thomas Burke, August 9, 1775." Charles Roberts Autograph Letters Collection, Quaker & Special Collections, Haverford College, Haverford, Pennsylvania.
↑ S.V. Henkels, Catalogue of the Valuable Autographic Collection and Engraved Portraits and Views Gathered By the Late Charles Colcock Jones, LL.D., Historian of Georgia (Philadelphia: Bicking Printing House, 1894), 7, 18.
External links