Wright v. Dawney
From Wythepedia: The George Wythe Encyclopedia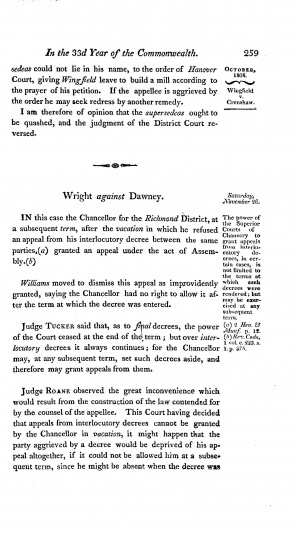 In Wright v. Dawney, 13 Va. (3 Hen. & M.) 259 (1808),[1] the Court determined whether the Chancellor's power over interlocutory decrees ceased at the end of the term.
Background
During a hearing between the parties, Chancellor Wythe denied Dawney's motion to appeal his interlocutory decree. However, in a subsequent term after a vacation of the Court, Wythe granted the appeal under a legislative act. Wright filed a motion to dismiss the appeal as improvidently granted. Wright claimed that Wythe had no right to allow the appeal after the term of the decree had ended.
The Court's Decision
The Court of Appeals denied the motion stating that Wythe did not exceed his powers in granting an appeal from an interlocutory decree. The Court reasoned that because the legislature did not explicitly restrict Chancellor Wythe from granting appeals on interlocutory decrees, he had an implicit power to do so.
See also
References
↑ William Hening and William Munford, Reports of Cases Argued and Determined in the Supreme Court of Appeals of Virginia: With Select Cases, Relating Chiefly to Points of Practice, Decided by the Superior Court of Chancery for the Richmond District (New York: I. Riley, 1810), 3:259.