Worsham v. M'Kenzie
From Wythepedia: The George Wythe Encyclopedia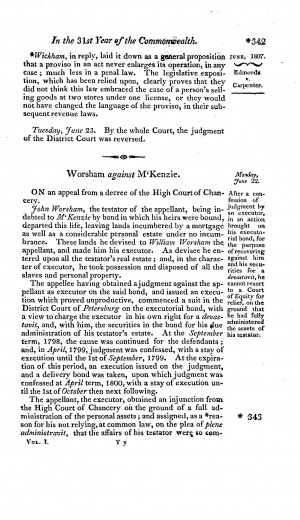 In Worsham v. M'Kenzie, 11 Va. (1 Hen. & M.) 342 (1807),[1] the Court decided whether an executor who confessed to a judgment against an estate, could then resort to a Court of Equity on the grounds that he had fully administered the estate of his testator.
Background
John Worsham was indebted to M'Kenzie. Upon his death, John left to William Worsham lands that were encumbered by a mortgage and a considerable personal estate free of legal liabilities. John also made William the executor of his estate. As devisee, William lived on John's lands. However, as executor, William took possession of or sold off John's slaves and personal property. After obtaining a judgment against William as an executor of John's estate, M'Kenzie sued William in the District Court of Petersburg to collect his money. M'Kenzie also brought a direct claim against William for mismanaging John's estate as executor. In September 1798, the case survived summary judgment. In April 1799, William confessed to M'Kenzie's judgment but a stay of payment was executed until September 1, 1799. After payment became due in September, execution was again confessed to in April 1800 but payment of the money was stayed until October 1, 1800.
William sued in the High Court of Chancery to obtain an injunction against M'Kenzie's money judgment. William claimed that John's affairs were so complicated that he did not know the state of John's assets at the time of the judgment and that John's personal assets were already fully administered. William also claimed that he was not represented by attorney when he first confessed to M'Kenzie's judgment.
The Court's Decision
During a final hearing, Chancellor Wythe dismissed William's claim. The Court of Appeals unanimously affirmed the decree.
See also
References
↑ William Hening and William Munford, Reports of Cases Argued and Determined in the Supreme Court of Appeals of Virginia: With Select Cases, Relating Chiefly to Points of Practice, Decided by the Superior Court of Chancery for the Richmond District (Flatbush, (N.Y.): I. Riley, 1809), 1:342.