Woodson v. Payne
From Wythepedia: The George Wythe Encyclopedia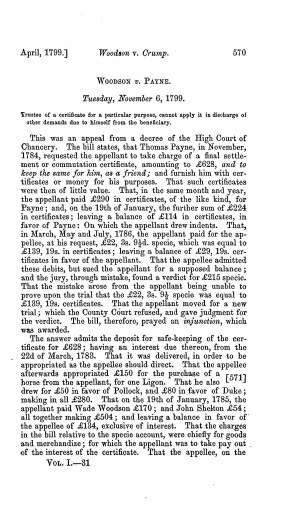 Woodson v. Payne, 5 Va. (1 Call) 570 (1799),[1] determined whether a trustee owed a debt to his beneficiary.
Background
Thomas Payne obtained a settlement for £600. In November 1784, Thomas Payne requested that Wade Woodson serve as his fiduciary and give him allowance for his day to day expenses. The agreement allowed Thomas to receive the allowance in either cash or certificates. In the same month, Wade gave Thomas £290 in certificates. On January 19, 1785, Wade gave Thomas £224 in certificates. This left Thomas with a balance of £114 in certificates which Thomas continued to take small withdraws from in March, May, and July of 1786. These withdraws left Thomas with a balance of £29. Although Thomas acknowledged that he made these withdraws, he still sued Wade in County Court for a supposed balance. At trial, the jury, by mistake, found that Wade owned Thomas an additional £215. Wade moved to have a new trial but the Country Court refused and gave a judgment for the verdict. Wade then sued Thomas in the High Court of Chancery to have an injunction awarded against the jury's verdict.
The Court's Decision
Chancellor Wythe dismissed the case with court costs. The Court of Appeals affirmed.
See also
References
↑ Daniel Call, Reports of Cases Argued and Adjudged in the Court of Appeals of Virginia, 3rd ed., ed. Lucian Minor (Richmond: A. Morris, 1854), 1:570. George Wythe owned the first edition of this set.