Wigglesworth v. Steers
From Wythepedia: The George Wythe Encyclopedia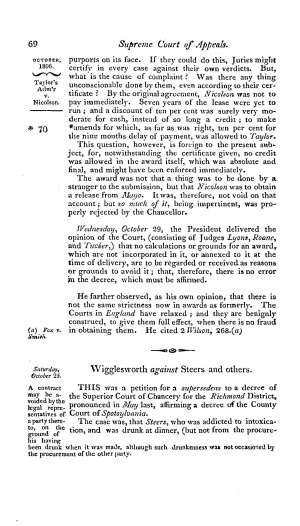 Wigglesworth v. Steers, 11 Va. (1 Hen. & M.) 69 (1806),[1] was a case where the Court determined whether a plaintiff can avoid a contract because the deal was made while he was drunk.
Background
Steers was an alcoholic and was drunk during a dinner. Around midnight following the dinner, Wigglesworth convinced Steers to convey his property in exchange for lands in Kentucky. Some witnesses believed Steers was still drunk while this conversation occurred. Wigglesworth gained possession of Steers' land but never conveyed to Steers the land in Kentucky, often promising but failing to execute a deed. Under these circumstances, Steers died without a will and his heirs sued Wigglesworth for breach of contract and for fraudulently obtaining the contract. Steers' heirs prayed the Court would return the land and account for any profits Wigglesworth received while the land was in his possession.
The Court's Decision
The Court of Spotsylvania annulled the contract and ordered Wigglesworth to redeliver the land to Steers' heirs without any account of the profits. Both Chancellor Wythe and the Court of Appeals affirmed.
See also
References
↑ William Hening & William Munford, Reports of Cases Argued and Determined in the Supreme Court of Appeals of Virginia: With Select Cases, Relating Chiefly to Points of Practice, Decided by the Superior Court of Chancery for the Richmond District (Flatbush, N.Y.: I. Riley, 1809), 1:69.