Tomlinson v. Dillard
From Wythepedia: The George Wythe Encyclopedia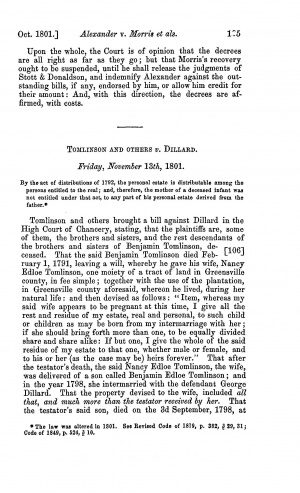 In Tomlinson v. Dillard, 7 Va. (3 Call) 93 (1801),[1] the court determined whether the mother of a deceased infant was entitled to any part of the estate the son inherited from his father.
Background
On February 1, 1791, Benjamin Tomlinson died leaving a will where he gave his pregnant wife, Nancy Edloe Tomlinson, his property and devised to his future child the rest of his estate. After Benjamin's death, Nancy gave birth to a son named Benjamin Edloe Tomlinson. In 1798, Nancy remarried George Dillard. On September 3 of the same year, Benjamin Edloe Tomlinson died at just 18 months. Not long after, Nancy also died. Benjamin Tomlinson's siblings and their descendants brought this case against George Dillard to recover Benjamin's land.
The Court's Decision
Chancellor Wythe was of the opinion that the mother inherited the slaves and personal estate of the infant at his death. Consequently, Wythe determined that that George Dillard, through marriage, was also entitled to the estate. Wythe dismissed the case with court costs. Benjamin Tomlinson's siblings appealed the decision and the Court of Appeals reversed.
See also
References
↑ Daniel Call, Reports of Cases Argued and Adjudged in the Court of Appeals of Virginia, 3rd ed., ed. Lucian Minor. (Richmond: A. Morris, 1854), 3:93.