Tabb v. Archer
From Wythepedia: The George Wythe Encyclopedia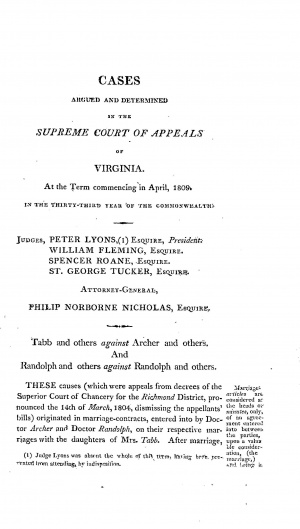 In Tabb v. Archer, 13 Va. (3 Hen. & M.) 339 (1809),[1] the court determined whether a marriage contract which limited the sale of property was enforceable.
Background
John Randolph Archer and Bathurst Randolph, both doctors, sought to marry Frances and Mary Tabb. However, the Tabb sisters' mother refused to give her consent unless John and Bathurst agreed to the terms of a marriage contract. Frances, who was of age, inherited several lots of land and slaves from her late father. The terms her contract conveyed her property to her husband on the condition that the property could only be devised to her heirs and John never sold or disposed of any part of the property. Mary Tabb, who was underage at the time, had a very similar contract, but it did not contain provisions regarding future marriages. After the wedding, the Tabb sisters respectively conveyed several estates and transferred their entire interests to their husbands. On April 20, 1802, John conveyed Frances' entire estate to Needler Robinson for $20,000. On May 21, 1802, Bathurst Randolph conveyed his wife's estate to Richard E. Meade for £5. Due to these transactions, Frances sued her husband and brother-in-law in the High Court of Chancery for the execution of the marriage agreements.
The Court's Decision
On March 14, 1804, Chancellor Wythe dismissed the case. The Court of Appeals reversed the decision.
See also
References
↑ William Hening and William Munford, Reports of Cases Argued and Determined in the Supreme Court of Appeals of Virginia: With Select Cases, Relating Chiefly to Points of Practice, Decided by the Superior Court of Chancery for the Richmond District (New York: I. Riley, 1810), 3:339.