Stannard v. Graves
From Wythepedia: The George Wythe Encyclopedia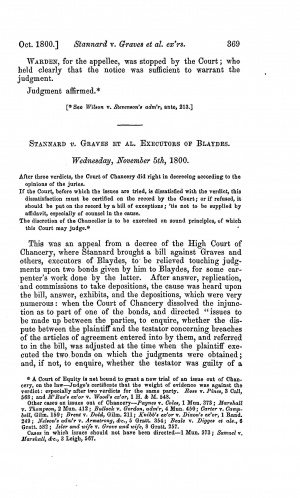 Stannard v. Graves, 6 Va. (2 Call) 310 (1800),[1] was a case where the Court determined the extent of the Chancellor's discretion in granting a new trial.
Background
Blaydes completed some carpentry work for Stannard but Stannard failed to pay. Blaydes obtained two judgments against Stannard to collect for his services. To obtain relief from the two judgments, Stannard sued Graves and Blaydes' other executors in the High Court of Chancery.
The Court's Decision
At trial, numerous pieces of evidence was introduced. Chancellor Wythe dissolved the injunction as to one of the bonds, but gathered a jury to determine whether Blaydes had contracted with Stannard to make good on any defects on the home and whether he breached that contract. The jury found that there was a contract between Blaydes and Stannard and that there was a breach. Wythe found the verdict erroneous based on the evidence. He set the verdict aside and ordered a new trial, which found that no agreement was made. After the verdict was certified in court, the plaintiff moved to set aside the second verdict after filing new material affidavits. Wythe rejected the motion to set aside the verdict and agree with the opinion of the jury. Stannard appealed.The Court of Appeals affirmed.
See also
References
↑ Daniel Call, Reports of Cases Argued and Adjudged in the Court of Appeals of Virginia, 3rd ed., ed. Lucian Minor (Richmond: A. Morris, 1854), 2:310. George Wythe owned the first edition of this set.