A Short History of the Life of Christopher McPherson, Alias, Pherson, Son of Christ, King of Kings and Lord of Lords: Containing a Collection of Certificates, Letters, &c. Written by Himself
From Wythepedia: The George Wythe Encyclopedia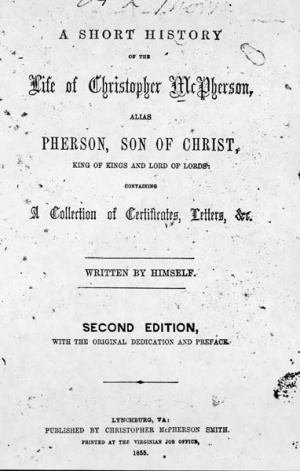 Christopher McPherson, a mixed-race slave, was born in 1763 and lived much of his life in and around Richmond, Virginia. He served in the Revolutionary War as a clerk, and continued in the profession upon the conclusion of the war. McMpherson believed himself to be the "declared representative of Christ Jesus." [1] George Wythe attested to McPherson's character in 1799.
Excerpts, 1855
Page 13
List of Gentleman who have employed Christopher McPherson as clerk, since his return, in the year 1800, from Philadelphia.

Wm. W. Hening; Peter Tinsley; Henry Banks; Edward Carrington; Edmund Randolph; John Wickman; Magee, Watkins & Co.; Bartlett Still; John Lesslie; Brown, Rives & Co.; Nathaniel Anderson; James Currie; Gen. John Marshall; William Hay; Samuel Clarke; John Brown; Wilson Allen; George Wythe; James Gibbon; John Cringan; J. & W. Friend & Co.; Kewen & Allen; James Shippard; William Marshall; Archibald Freeland; William Fenwick; Brown & Rives; John Warden; James Brown; Pickett, Pollard & Johnston; George Pickett; Robert Pollard; Charles Johnston; Bryson & Parkhill; Bohn & Hubner; Bream & Follett; James Bream; Daniel Call; Wm. C. Williams; John Campbell; Gen. Andrew Moore; David Barclay; John Lesslie & Co., &c., &c.
Page 15
Certificate of the Chancellor of State.-Of Christopher McPherson I have heard said many good words, and never an ill word; from my own observation I believe him to have deserved well.

G. WYTHE. May 20th, 1799.




We have been acquainted with Christopher McPherson, a free man of color for a long time past, he

having resided many years in the city of Richmond, of which we are inhabitants, and having been generally employed during that time as clerk in different public and private offices, and counting-houses in said city, and have ever considered him as a person of integrity, industry, and general good conduct. His skill in accounts, and general knowledge of business, in addition to his other qualifications, have occasioned his being much employed in the line of his business, in matters of difficulty, that required skill, care and attention. And we have every reason to believe that he has given great satisfaction to his employers.

RICHMOND, 11th Nov., 1810.

William W. Hening, Payton Drew, Charles Blagrove, has not had occasion to employ in his service the above named Christopher McPherson, but has known him for several years, and believes him to deserve the reputation and character herein stated.

William Dabney, Samuel Greenhow, James D. McCaw, Robert Pollard, George Pickett, sr., Edmund Randolph, George Fisher, H. Dance, John D. Blair, as to his good behavior, the rest he believes from report.

John Wickham, Thomas Marshall, Benjamin Botts, William Wirt, John Warden, William Forester, J. B. Dandridge can confidently testify as to the extraordinary industry and fidelity of Christopher McPherson, having known him first in the employment of the late most worthy clerk of the Chancery Court, and there been an eye witness of his labors, day and night, and last in the late office of the Supervisor for Virginia, where he received the enormous wages, of from 23 shillings to four dollars per diem, which was thought to be judiciously paid by the best officers. C. McP. at one time, accomplished in about three days, a piece of work assigned by the clerk of the C. C. for two weeks' labor; this that officer often told with astonishment. J. B. D., William Robertson, William Dandridge, William Nekervis, Thomas Norvel, Miles Selden, has been acquainted with Christopher McPherson, for twenty years, and coincides in opinion with the above subscribers.
Page 16
Creed Taylor, A. B. Venable, James Brown, John Graham, William Brown, James Innes, John Lesslie, James Kirby, Norman Stuart, George Greenhow, Benjamin Stetson, Isaac Webster, William Moncure, C. J. Macmurdo, Daniel Warwick, T. Gwathmey, jr., John G. Smith, James Shiphard, James Scott, Samuel Clark, William McKenzie, Wm. Galt, Wm. Prichard, Robert Gamble, Henry Tompkins, J. Gibbon, has had C. McP. in his employ, and was well satisfied of both his capacity and good conduct.

Archibald Denholm, Edwin James Harvie, Wm. Temple, William Young, Nathaniel Staples, Wm. Foushee, Gervas Storrs. Benjamin Shippard, Wm. Wardlaw, Wm. H. Fitzwhylsonn, D. Lambert, Henry S. Shore, Alexander Kerr, Robert Graham, George Dabney, Philip N. Nicholas, Wm. Fenwick, Robert Mitchell, Samuel Pleasants. J. Darmsdatt, Edmund Taylor, Joseph Trent, John Price, John Buchanan, Daniel L. Hylton, John Brockenbrough; J. Preston has heard a very favorable report of the talents and integrity of Christopher McPherson.

J. Marshall, Wm. Murphy, Peter Crutchfield, David Bullock, Anderson Barrett, Mary Randolph, Thomas Wilson, has been many years acquainted with Christopher McPherson, and has employed him in his office occasionally, much to his satisfaction.

Robert Quarles, Richard Adams, Richard C. Wortham, George Marx, C. Copland, Jos. Marx, Wm. Rawleigh, F. Wiatt, Wm. B. Page, Wm. Oden, Thomas Baker, Martin Baker, jr., Alexander Quarles, E. Smock, James S. Smithers, Wm. Ross, Thos. Pulling, John Craddock, Richard Young, William Rowlett, Samuel White, Thomas Burton, jr., Hugh Davis, William Cook, Cassper Fleisher, Samuel Myers. Bently Anderson was an assistant clerk for Mr. Tinsley, in the Chancery office, when Christopher McPherson did a great deal of writing in said office, and believes he was the first who suggested the convenience of an alphabet to the court docket, which is made out in his own hand-writing.
Page 17
| | |
| --- | --- |
| 1770 | I was sent to school, in Goochland, near the court-house -- remained 1 3/4 years. |
| 1772 | Went behind the counter in the Elk Horn store at Petersburg. |
| 1776-7 | Schooling children, &c. |
| 1778 to 1781 | Clerk for the commercial agent for this State; during this time, and at the siege of York Town, was also Clerk for one of the Commissary Generals, and otherwise rendered essential service for the Continental Army. |
| 1782-3 | Clerk for David Ross, esq. |
| 1784 | Principal store-keepr for David Ross, esw., 'till the end of the year 1787, when the store was closed. Whilst 8 or 10 white gentleman were under my directions, (I mustered in this time, which I disliked.) |
| 1788 to 1799 | Was principal clerk to D. Ross, esq., whilst 2 to 6 gentleman were under me. (In summer '99, I quitted Mr. Ross.) 'Twas, I think, in 1797 that a riot was passing in the road by my door near columbia, of a number of slaves. I turned out with my sword, in order to suppress it, without expecting any help. Major John Quarles' certificate goes to provide that with my help mischief was prevented. |
| 1799. | (Winter,) enrolled for Congress 'till spring 1800 |
| 1800 | (Spring,) Mr. Jefferson introduced me by letter to Mr. Madison. I sat at table, evening and morning with Mr. Madison, his lady and company, and enjoyed a full share of the conversation. |
| 1800 | Clerk for Mr. W.W. Hening -- investigating British claims; &c. |
| 1800 | Nominated by Mr. James Ross, brother to D. Ross, esq., his principal executor by will, as per probate obtained from the court of Fluvanna county. |
Page 18
| | |
| --- | --- |
| 1800. | Clerk in the office of the high court of chancery. |
| 1801. | Clerk for Col. Carrington, as supervisor, and in the office of H. C. Chancery. |
| 1802. | Clerk in H. C. Chancery, and for others; and I then invented an index for the court docket of the H. C. Chancery, which index, 'twas said by several attorneys at the bar, expedited the business every session, to about three days more business than would have been done without it. (Query, what did this save the public at large?) |
| 1802 | I was witness for a man of colour, when my oath was taken by the jury in the district court, in preference to the opposite oaths of two white witnesses. |
| 1803 | to 1810 inclusive: Clerk for all the principal offices both under the general and State governments, and for judges, lawyers merchants, &c. &c., &c. in this city. |




I do hereby certify, that the writings on the nine pages preceding this, are true copies of the original documents filed in my office.

WM. MUMFORD, [sic]

Keeper of the rolls for the Commonwealth of Virginia.
References
↑ "Summary of A Short History of the Life of Christopher McPherson," Documenting the American South, University of North Carolina at Chapel Hill.
External links