Rose v. Murchie
From Wythepedia: The George Wythe Encyclopedia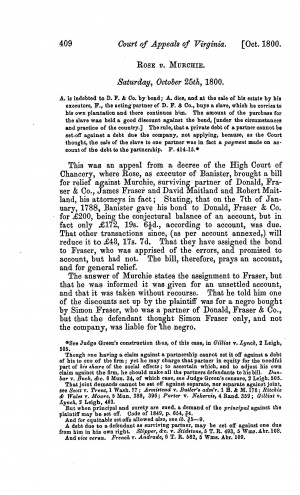 Rose v. Murchie, 6 Va. (2 Call) 344 (1800),[1] was debtor/creditor dispute.
Background
Rose was an executor of Banister. Rose alleged that on January 7, 1788 Banister paid Donald, Fraser, & Co. £200 to cover the balance of his account. However, Banister only owed the company £172 and some change. Simon Fraser was made aware of the overpayment and promised to grant a credit on the account but never did. Rose sued the only surviving partners of the company, Murchie and his attorney for the remaining balance of £43. In his answer, Murchie argued that the bond was assigned to Fraser and that the balance was used to purchase a slave. Murchie further argued that the buying on slave was not something the company should be liable for but only Fraser's individual mismanagement of fund. Fraser's answer denied all knowledge of the transaction except that the bond was assigned to him to discharge a debt.
The Court's Decision
Chancellor Wythe referred the accounts to a commissioner. The Court of Chancery confirmed the report and allowed Rose a credit for the two sows (pigs) and the slave. After the defendants filed a bill of review, the case was reheard with consent. During the hearing, Chancellor Wythe then decreed the Rose was not entitled to the credit. The Court of Appeals reversed the last decree and affirmed the first.
See also
References
↑ Daniel Call, Reports of Cases Argued and Adjudged in the Court of Appeals in Virginia, 3rd ed., ed. Lucian Minor (Richmond, VA: A. Morris, 1854), 2:344. George Wythe owned the first edition of this set.