Price v. Strange
From Wythepedia: The George Wythe Encyclopedia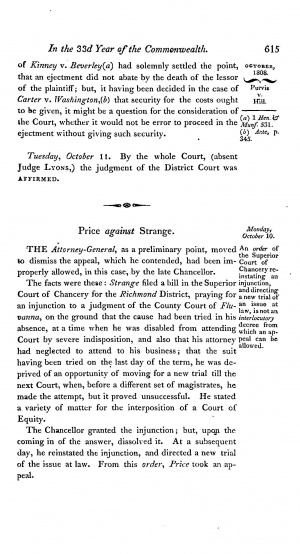 Price v. Strange, 12 Va. (2 Hen. & M.) 615 (1808),[1] was a dispute where a defendant sought to overturn a default judgment for his absence in court.
Background
Strange requested an injunction from the High Court of Chancery against a judgment made against him in the County Court of Fluvanna. Strange argued that at the time of the court hearing he was disabled and unable to attend. Strange also claimed that his attorney neglected to tend to his business in court.
The Court's Decision
Chancellor Wythe granted the injunction, but upon receiving the Defendant's answer, dismissed the case. At a subsequent hearing, Chancellor Wythe reinstated the injunction and directed a new trial on the issue at law. The Court of Appeals unanimously dismissed the appeal stating that the appeal was allowed prematurely.
See also
References
↑ William Hening & William Munford, Reports of Cases Argued and Determined in the Supreme Court of Appeals of Virginia: with Select Cases, Relating Chiefly to Points of Practice, Decided by the Superior Court of Chancery for the Richmond District (Flatbush, N.Y.: I. Riley, 1809), 2:615.