Pope v. Towles
From Wythepedia: The George Wythe Encyclopedia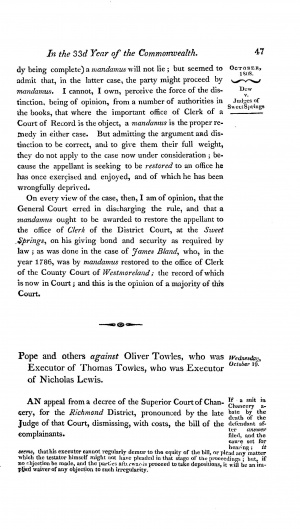 Pope v. Towles, 13 Va. (3 Hen. & M.) 47 (1808),[1] was a case involving a contract dispute over the shipment of tobacco.
Background
Nicholas Lewis owed John Wily 12,000 lbs of tobacco. John Wily sued Nicholas in General Court and hired Duval as his attorney. Nicholas died after a judgment was made in the Court chambers but before it could be heard in the upcoming term. The Court Clerk, unaware of Nicholas's death, entered a final judgment against him in October 1783. On March 5, 1801, the suit was abated because of the death of Towles. However, a subpoena to revive the cases was awarded.
The Court's Decision
Chancellor Wythe dismissed the case. The Court of Appeals unanimously affirmed the decree.
See also
References
↑ Daniel Call, Reports of Cases Argued and Determined in the Supreme Court of Appeals of Virginia: With Select Cases, Relating Chiefly to Points of Practice, Decided by the Superior Court of Chancery for the Richmond District (New York: I. Riley, 1810), 3:47.